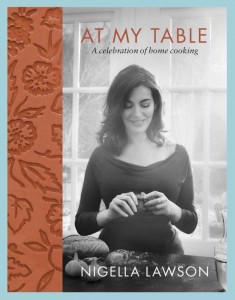 If you are one of those people that does not like planning early for Christmas then look away NOW!
If, on the other hand you like gathering up some presents early, then it might be worth taking a look at the latest books that have been released or are due out soon.
There is literally a book to suit each loved one in your life!
Starting with our cover star Nigella's latest book is called At My Table: A Celebration of Home Cooking, as the title suggests the book is supposed to be recipes that we can all cook at home using comforting ingredients that we are all familiar with. The book is not about having specialised equipment or making things over complicated, just good food that doesn't require a lot of technical ability and can be shared with friends and family.
In November a 6-part series will run on BBC Two by way of accompanying the book.
Publisher: Chatto & Windus
If you have indulged in recipes from the above book then it's entirely possible you'll need to think about a way to keep the calories in check and exercise going for the rest of the time – queue Joe Wicks, with his latest book: The Fat-Loss Plan. The book contains 100 brand-new recipes alongside his speedy but effective workouts. If you are wondering who is 'Joe Wicks', well, he is a new breed of 'internet/social media celebrities', with 4 million followers (ever growing) sharing his personal journey so that you can adopt a fitter and leaner lifestyle. His first book – Lean in 15, is actually the bestselling diet book of all time!
Publisher: Bluebird
Our next author – Mary Berry needs no introduction, but you might be surprised that her latest book is not focused on cooking or baking. It is called Household Tips & Tricks: Your Guide to Happiness in the Home. I'm sure the title doesn't need much explaining – the book, from years of practical experience Mary guides you alongside beautiful illustrations how to look after a home, covering cleaning, laundry, gardening, flowers, hosting and more…
Publisher: Michael Joseph
If a more male perspective is needed on the garden, then why not turn to Monty Don and his new book simply titled – Down to Earth: Gardening Wisdom. If you like his presenting style you will no doubt like his books as they are written as he talks. There is a handy month-by-month guide for how he tackles the jobs in his own garden. His general musing about nature, design, colour, pest control, the seasons etc. He shares pictures of his own garden and gives advice on many aspects of gardening that both beginners and those that are more experienced struggle with.
Publisher: DK
If you are looking for something a little different, then why not turn to Actor Tom Hanks who has written Uncommon Type: Some Stories. The book is a collection of 17 short stories. Stephen Fry says about the book: "Mr. Hanks turns out to be as authentically genuine a Writer with a capital W as ever touched a typewriter key. The stories in UNCOMMON TYPE range from the hilarious to the deeply touching. They move in period, location and manner, but all demonstrate a joy in writing, a pleasure in communicating an intensely American sense of atmosphere, friendship, life and family that is every bit as smart, engaging and humane as the man himself … I blink, bubble and boggle in amazed admiration."
Publisher: William Heinemann
Many of us have grown up watching Sir David Attenborough, and luckily his book Adventures of a Young Naturalist: Sir David Attenborough's Zoo Quest Expeditions is just as easy to read as any of his programmes are to watch. The book is a story of the voyages that he undertook in 1954 when as a youngster he was given the opportunity to travel the world to find elusive and rare animals for London's Zoo collection, whilst filming the experience for a BBC show called Zoo Quest. It covers everything from cannibal fish, to Komodo dragons, to anteaters, everything to make you fall in love with the natural world all over again!
Publisher: Two Roads
From the natural world to the more spiritual world we move to Alice Hoffman's new book – The Rules of Magic. Love is a curse for the Owens family, a curse that dates back to 1620 when Maria Owens for loving the wrong man was charged with witchery! Despite hundreds of years passing, in New York Susanna Owens realises that each of her three children are unique – dangerously so… As such she sets rules for her children: no cats, no red shoes, no books concerning magic and so on. But despite the rules everything changes when they visit their Aunt in Massachusetts. Secrets are uncovered and the march is on to escape the family curse.
Publisher: Scribner UK
If you like books more scary than spiritual, then why not tune into James Patterson's latest novel: Haunted. This book is part of the Michael Bennett series. For once Michael no doubt wished that he could leave his cop persona behind in New York City, as he is embarking on a much needed vacation following himself and his family being pushed to the brink with one crises after another. They settle on a beautiful small town in Maine, just somewhere they can relax. But no sooner has he arrived he is being pulled into a case that has left the tight-knit community shocked to its core. Kids are missing, bodies are dead in the woods and a deadly addiction is revealing itself. Bennett despite his best intentions ends up fighting evil before it threatens not only the law, the town but also his family!
Publisher: Century
Tweet