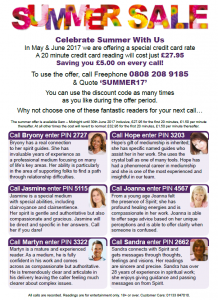 Celebrate the beginning of summer with Psychic Sight, we are offering all of our loyal clients a discount of £5 off every credit card call.
This means that from NOW until the 30th JUNE 17 a credit card reading will cost only £27.95!
To take advantage of the offer – you just need to call Freephone: 0808 208 9185 and quote the code: 'SUMMER17'. It's as easy at that!
If you are not sure who to have your reading with then why not visit our 'Readers' page, where you will find profiles on all of the psychics and mediums available. On the right hand side of the page you will see the live availability telling you who is available to take a call right now.
You might choose Joanna – PIN: 4567, who loves to work with Tarot, she feels that it gives very specific guidance, it is especially good when people don't know exactly what questions to ask – they just feel that something is not right in their lives, Joanna is able to cut through the confusion and provide clarity.
Or Martyn – PIN: 3322, who is fantastic with soul-mate questions. Martyn is a compassionate reader who deals sensitively with all love and relationship issues. He will break down a complicated situation for you and let you to see the bigger picture. As an energy master he will guide a client to their real path.
Or Bryony – PIN: 2727, not all problems are regarding love, some might be about your career or your business and in these situations Bryony is a great trouble shooter to turn too. Bryony and her guide like callers to be direct, her reading in return will be specific and full of guidance. Bryony is a very empathetic and nurturing reader.
Whatever your problem, we do hope you get in contact and take advantage of the summer offer…
Terms
Readings are for entertainment only; the caller must be 18 or over and have the bill payer's permission. All calls are recorded. Customer Care: 01133 847010.
The offer price is £27.95 for the first 20 minutes, £1.50 per minute thereafter. This special rate is applicable between 9am-Midnight daily until the 30th June 2017. At all other times the costs will revert to normal: £32.95 for the first 20 minutes, £1.50 per minute thereafter.
Tweet