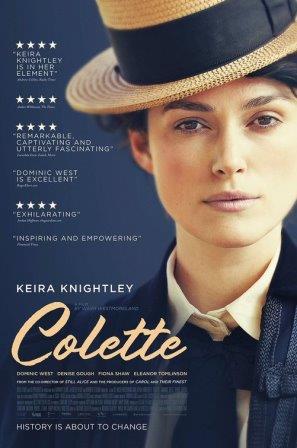 Keira Knightley acts in a British biographical film called Colette, based on the French writer Sidonie-Gabrielle Colette. The drama is directed by Wash Westmoreland, and Keira plays opposite Dominic West, who plays the character 'Willy'.
Henry Gauthier-Villars (Willy), introduces Colette to Paris, at a time when it is at its most bohemian, a far cry from the rural childhood home of France she was used to. She marries Willy, who is a successful Parisian writer, with all the intellectual entrapments and artistic splendour that involved.
It's not long before Willy discovers Colette has a talent for writing, and he persuades her to ghost-write for him. She agrees, and turns in a semiautobiographical book that is both funny and brazen in equal measure. The book is named Claudine, and becomes both a literacy sensation and bestseller, with women unusually turning out in their droves to purchase the book.
Willy and Colette become quite the celebrity couple of their time, and more Claudine novels are written, but it's not long before the fact that Colette cannot get credit for her success eats away at her.
The film is out in the UK on the 11th January 2019, and it is very timely with the #metoo movement, and more of a push for society to treat each gender equally especially in the workplace and especially regarding pay. This story whilst portrayed as a period drama, has very definite parallels with current times. Colette was the ultimate feminist, and the story depicts her transgression and empowerment. Ultimately to attain credit and financial gain for her own work.
Unfortunately, their relationship does become more of a business arrangement, with both of them having romantic trysts with others. In fact, Colette was not afraid even during that time to explore her gender and sexuality. The film depicts the real life of writer Colette, and she was revolutionary, in terms of literature, fashion, sexual expression and overcoming societal constraints.
Keira's performance has been widely commended, maybe an Oscar could be in her future for this role? Whilst at times you want to hate the character of Willy, he does show heart and humour, making it much harder to easily dislike and disregard him.
If you like British costume dramas; but are more than ready to see something that stacks against the current times – then this is the film for you!
Picture courtesy of Bleecker Street Media
Tweet