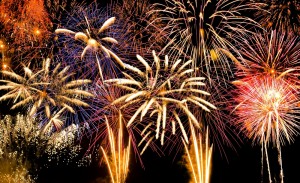 Bonfire Night: "Remember, remember, the fifth of November. Gunpowder treason and plot. We see no reason, why gunpowder treason, should ever be forgot."
Guy Fawkes related bonfires actually began the same year as the failed coup in the night between 4th & 5th of November 1605. Londoners, who knew little more than their King had been saved, joyfully lit bonfires.
In time celebrations became more elaborate with people making a dummy of Guy Fawkes generally called a "Guy". Children would walk the streets shouting "penny for the Guy", the money collected would be spent on fireworks for the evening's festivities. On the night itself the Guy would be placed on top of the bonfire and set alight.
You might think Bonfire Night is only a British celebration, but in fact it crossed oceans and established itself in the British colonies and still lights up in places like New Zealand and Canada today.
Things you might not know about fireworks:
The first fireworks were probably made in China, around 2,000 years ago.
In the Far East, fireworks have been used at religious ceremonies for centuries.
The word for firework in Japanese, 'hanabi', means 'fire-flower'.
Italy and France were the first European countries to have fireworks, in the 1300s.
The first recorded use of fireworks in Britain was at the wedding of Henry VII in 1486.
The first fireworks recorded in America were set off by an Englishman, CaptainJohnSmith, famous in the story of Pocahontas.
Coloured fireworks didn't exist until the 1800s.
Firework Code:
Plan your firework display to make it safe and enjoyable.
Keep fireworks in a closed box and use them one at a time.
Read and follow the instructions on each firework using a torch if necessary.
Light the firework at arm's length with a taper and stand well back.
Keep naked flames, including cigarettes, away from fireworks.
Don't return to a firework once it has been lit.
Don't put fireworks in pockets and never throw them.
Direct any rocket fireworks well away from spectators.
Never use paraffin or petrol on a bonfire.
Check that the fire is out and surroundings are made safe before leaving.
Tweet