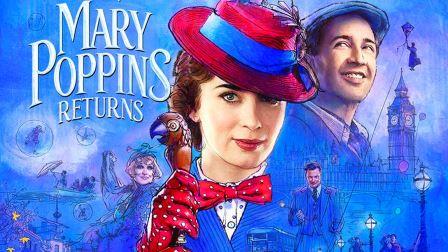 Can you believe it's been fifty-three years since the original Mary Poppins opened on our screens? I'm sure that Disney are hoping for Mary Poppins Returns to be 'practically perfect in every way!'
The film isn't in fact a re-make of the original, but a new movie, with a fresh story-line. To not ruin the surprise Disney haven't actually revealed a lot about the plot.
Here's what we do know about the film's storyline
Jane and Michael – the grown-up Banks children are living in their parents' original home at Cherry Tree Lane, the action is set twenty-five years later in 1935, and now Michael has children of his own.
At first you assume that Mary Poppins has returned to look after the children, but in fact she is there to help her original children – now adults, Jane and Michael. They are particularly in need of an injection of joy, after Michael suffers a personal loss leaving the whole family sad.
The Cast
Jack the Lamplighter is played by Lin-Manuel Miranda, in an iconic scene he is helping Michael's son to fly a kite – and in the distance Mary Poppins can be seen floating through the sky with her umbrella open.
Dick Van Dyke features in the film, but this times as the Bank Chairman and not the chimney-sweep. Despite his age, it would appear as if there is a dance sequence…
As you can see from our cover star, Mary Poppins is played by Emily Blunt. Of course, she had massive shoes to fill, taking over the role from the brilliant Julie Andrews. Speaking to Digital Spy, Emily explained that the film is perfectly timed: "The world is fragile right now, and people need a film like this."
As if that cast isn't enough, Jane and Michael Banks are played by Emily Mortimer and Ben Whishaw, Colin Firth as William Weatherall Wilkins – the President of the Bank! Meryl Streep as Topsy (Mary's cousin), and Julie Walters as Ellen (the housekeeper). Plus throw in Angela Lansbury as the Balloon Lady and you've got yourself a star cast!
Iconic Film Happenings
The penguins are back, dancing and animated just like in the original.
Mary still floats up the banister. All the while, Jane & Michael are claiming that the things that occurred with Mary Poppins in their childhood – didn't really happen!
There will be knees up action, aka – Step in Time.
Allegedly Dick Van Dyke's British accent is as terrible as ever…
Release
The film will be playing in the UK from 21st December 2018.
It will be – Supercalifragilisticexpialidocious!
Image courtesy of Walt Disney Studios
Tweet