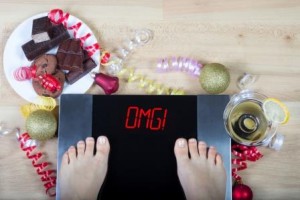 I am writing this article in October, but already the shops are filling up with holiday goodies – Mince Pies, Christmas Cake, Christmas Pudding, Cheese Biscuits, Peanuts and of course the beloved Quality Street and Roses to name a few…
Research suggests that most people will put on just over two pounds in weight over the holiday period, but for many the weight increase is much higher, especially with bank holidays allowing for extended time away from work. The most worrying thing though is that often those few extra pounds stay on, and so gradually year on year we get a little bit bigger!
So, if you want to enjoy yourself – but would like to keep weight gain at bay, why not try these tips and tricks:
Weigh at least twice a week, this allows you to see if your weight is escalating fast and you can pull back, but is not as bad as weighing every day – to ruin the festive season.
Continue with your exercise routine, it is tempting whilst away from work and when the weather is bad to just become a couch potato, but doing some form of exercise especially in the morning is proven to make you think more about your activity and food choices for the rest of the day.
It is likely at some point that you will be hit with the dreaded buffet! A table laden with high fat, high calorie delicious treats like sausage rolls. In this situation it is probably better to assess all of the food on offer and go for some of your favourites (but in moderation), those that often choose the healthy options, then feel deprived and go back for what they really wanted – giving a double calorie whammy.
An increase in alcohol can also really add to the calorie load at this time of year. If you know you have a number of events to attend, then try lower calorie drinks such as vodka and gin with a diet mixer, have some low calorie soft drinks or water in between alcoholic beverages and pace yourself.
Don't starve yourself, often if we know we are going to have a big meal in the evening, we eat very little in the day, but actually this can prove counter-productive, with you eating far more in the evening as a result of hunger. For example, you could have something like porridge for breakfast for its slow energy releasing properties and some sort of salad and protein at lunch to give you energy – but possibly pull back on the carbs.
Lastly, sometimes you will just need to exercise your will-power and say NO. It's easy for friends and family to encourage others to over-indulge at this time of year, no one wants to feel like they are drinking alone! But you need to stand firm when you have had enough.
Festive Offer
Whilst we are talking about the Christmas Season, why not take up our festive offer and enjoy a credit card reading with a £5 discount? During December 2017 you will be able to take advantage of the offer by phoning 0808 208 9185 and quoting 'NOEL'. The discount code works 9am-midnight and you can use as many times as you like. During the offer the credit card rate for the first 20-minutes will be £27.95 instead of £32.95. At all other times the cost will revert to normal. For full information and terms download our Christmas Offer Flyer.
Tweet