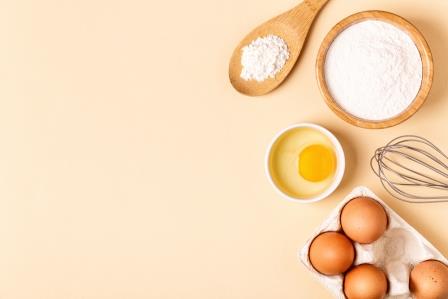 That headline could easily have been confused with barking mad, as let's face it the lockdown has sent us all feeling a little loopy at times! But, for many, a salvation has been found in baking…
Anyone that tried to track down baking staples like flour, yeast, eggs and baking powder in the early stages of Covid-19 will know just how many people out there were giving it a go.
Social media channels have been awash with folk showing off their latest sour dough bread, and fretting about keeping their bread 'starter' alive. While banana bread has been one of the most googled baking recipes during the period!
But what if you are normally more of a cook than baker? Then you might find these ratio hints & tips useful in the kitchen:
Cake
Whether you are making a sponge cake in round tins, to turn into something like a Victoria sponge, butterfly cakes or cupcakes – you can follow the 1:1:1:1 principle.
I.e. 4 ingredients – same weight of each: eggs, sugar, flour (self-raising) and butter.
Always start by weighing the eggs. 2 would be good for 12 cupcakes. 3 eggs if you are making a 2-layer sponge cake and so on. Then take an equal weight of the other three ingredients.
Frosting
Does your cake need frosting?
Try a 2:1 ratio. 1-part butter to 2-parts icing sugar. Once whisked together and made fluffy, you can add a tablespoon or two of milk and/or flavouring to loosen to the consistency you want.
To cover an average size cake, you will need 200g butter, 400g icing sugar & 2 tbsp liquid.
Pastry
Pastry also uses a 2:1 ratio. This time the two parts are flour, and the 1 part is butter.
A 9-inch pan would require 100g butter, 200g flour and approx. 3 tbsp water.
Bread
For a standard loaf of bread, you would need a ratio of 5:3.
In this case the 5-parts is of strong bread flour – 500g. The 3-parts is made up of tepid water, in this case 300ml. This volume of ingredients would also need 1 tsp salt and 2 tsp of dried active yeast.
Why not try these other baking ratios?
Biscuits – 3 flour, 2 fat & 1 sugar.
Pasta – 3 flour & 2 eggs.
Muffins – 2 flour, 2 liquid, 1 fat & 1 egg.
Yorkshire Pudding – 2 liquid, 1 flour & 1 egg.
Once you have mastered these basics, you can tweak the recipes as you want. Cakes might become lemon flavoured or even chocolate. You might make a cream-cheese frosting. Pastry might become savoury with some added herbs/cheese, and bread might go wholemeal…The ways are endless!
Tweet