Quite often a client visiting Psychic Sight will be interested in a Tarot reading, so we thought it would be helpful to produce a page that brings information together on some of the readers that we have that specialise in offering Tarot card reading as well as some useful background on how this form of divination started and what the major Arcana cards / spreads can mean. We hope you find this information useful and you go on to enjoy a tarot reading with one of our psychics.
We have many readers that use different methods of divination for example tarot cards or angel cards. Below are just a few examples of some of our readers that offer tarot card readings, but you can find more on the Psychic Readers page:

Aelissa Pin: 4444 "I have been reading Tarot cards for many years; to me it is the most versatile reader tool. I find timescales are more accessible and probably outcomes are more clear during a Tarot reading and I am more able to find reasons and causes behind issues".
Hope Pin: 3203 "I have a natural inherited gift of Clairvoyance; my Father was a spiritualist and medium. I employ this gift to all my readings whether I am using Palmistry, Tarot, I-Ching, Psychometry, Crystal Ball, Dream Interpretation or Meditation."
Mary Pin: 5055 "I have a natural ability of making people feel calm and relaxed. I work with spirit, angel and animal guides and tarot cards and can connect with loved ones if requested. I am direct and honest."
Paula Pin: 5454 "I am a very experienced and dedicated medium having worked for many years; during this time I have used tarot cards, crystals, ribbons and colors on numerous occasions."
There is no conclusive information about exactly where and when Tarot cards came in to use, but it is generally accepted that they developed in the early 15th century in Italy. At this time it was believed Tarot was simply a form of card game, it is not until the late 18th century in France that the cards had a role as a form of divination. It is believed that this new purpose gathered momentum through to the mid nineteenth century with the cards being adopted for various mystical beliefs.
In 1909 the Rider-Waite deck was produced and at this point the design of the cards took on not just a divination aspect but also a psychological meaning and interpretation. The famous Swiss Psychologist Carl Jung became interested in the Tarot, in particular identifying the images of the Major Arcana as transformation or symbols drawn from the collective unconscious.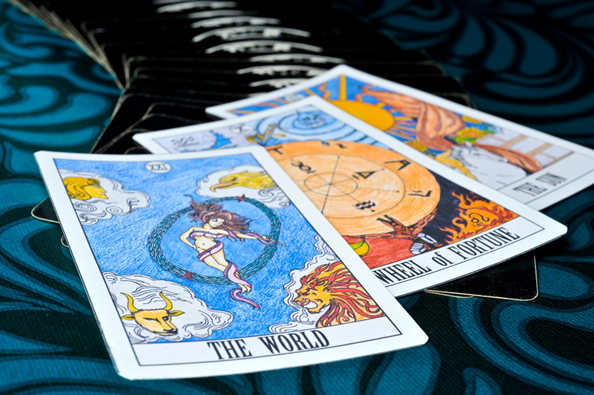 A tarot deck is made up of 22 cards forming the Major Arcana (the word Arcana comes from the Latin word for secret) which depict ones journey through life – symbolic figures such as The Fool or The Magician, elements of nature such as The Sun and The Moon as well as the spiritual journey through joy, hope, fears and sorrow. Many decks have now been designed and the exact order of the cards can differ, but Major Arcana cards are always illustrated. Broadly speaking the sequence from 0-21 is meant to represent the soul's journey to awareness and the process of spiritual transformation.
Below are some traditional interpretations of the Major Arcana cards based on the Rider Waite pack:
| Card name | Card depiction (where relevant) | What the card represents |
| --- | --- | --- |
| The Fool | A Jester, sometimes shown starting a journey – may be accompanied by a dog. | Impulse, birth & youth. |
| The Magician | May be shown as an Illusionist at a fair or Juggler. Sometimes paying with the symbols of the four suits. | Consciousness, sense of self, control and dexterity. |
| High Priestess | Female religious leader. | Women's liberation, wisdom, independence and psychic development. |
| Empress | Queen on her throne or Mother Goddess. | Illumination, intelligence, understanding, maternity and creativity. |
| Emperor | King on his throne, sometimes shown holding a sphere and sceptre. | Sight, vision, realisation, power and strength. |
| Hierophant or Pope | Pope seated on a throne or religious leader. | The link between God and man, spiritual discovery, paternal, transcendent and teacher. |
| Lovers | Two people surrounded by cupids and flowerbeds. | Struggle, beauty, sovereignty, synthesis and union. |
| Chariot | Warriors parading in a chariot or a hero icon being paraded around. | Victory, domination of humankind over nature, power, war and self-control. |
| Strength | | Love as strength, endurance, will to survive, strong desires and perseverance. |
| Hermit | Hermit holding an hourglass. | Withdrawal, solitude, abandonment of convention via inner conviction, preoccupation with details, |
| Wheel of Fortune | | Karma, reincarnation, consequences of chance happenings, cycles, motifs, optimism and generosity. |
| Justice | Lady Justice – blindfolded with scale. | Decision and equilibrium. |
| Hanged Man | | Sacrifice, violence and transition. |
| Death | Skeleton or Grim Reaper. | Stagnation, routine, fresh starts, clean slate, liberation and renewal. |
| Temperance | | Enthusiasm, moderation, truthfulness, mixing of opposite ingredients in proper proportion and working together. |
| The Devil | | Superficiality, confusion, ignorance, apathy, limitations, frustrations and sexual problems. |
| The Tower | House of God or a ruin. | Spiritual awakening or destiny. |
| The Star | Woman kneeling on seashore. | Meditation, inspiration, hope and immortality. |
| The Moon | | Illusion, self-deception, confusion, and growth of intuition. |
| The Sun | | Enlightenment, clarity, understanding, comprehension, wisdom, happiness and splendour. |
| Judgement | Angels blowing Trumpets. | Awakening to something new and re-birth. |
| The World or Universe | | Completion, reward, perfection and a unity or positive and negative. |
The Minor Arcana section of the Tarot deck is made up of 56 cards, which are then divided in to four suits – Wands (or Staves). Pentacles (or Disks), Swords and Cups. Each suit contains 10 cards just like normal playing cards numbered ace to ten, plus the four court cards – King, Queen, Knight and Page. The Minor Arcana cards really deal with the people (signified by the court cards) that we meet and the detailed situations that we encounter in life. Traditionally Swords represent ill fortune or difficulties, Pentacles indicate financial or material success, Cups equal good fortune and love and Wands suggest enterprise and knowledge.
When you call for a reading you can ask the psychic to use Tarot cards as part of the reading, it may be that they just draw one card to trigger their intuitive powers, but equally they may choose a specific spread or layout for example a 10 card Celtic Cross spread. The reader will look at the spread as a whole as well as the individual cards, specific meanings are interpreted based on the position of the card – whether it is upright or reversed. Generally speaking Tarot readings are not used to give yes or no answers, but to provide insight and direction to a certain situation you may be facing; it is great for reflecting on existing energies and helping a person to see life from a new perspective.
To have a Tarot reading now, check which readers are available and then phone 0906 110 7011 for a phone call paid via your phone bill or 0808 208 9171 for a credit card call (see full terms & conditions before calling).
Ref: The Encyclopaedia of Mind Body Spirit by Dr William Bloom, Judy Hall and Professor David Peters.
The Element Encyclopaedia of the Psychic World by Theresa Cheung.