PIN: 1180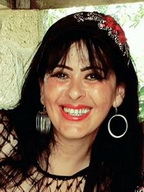 I live up in the mountains of Cyprus and come from a Turkish Gypsy background.I have been Psychic since childhood and when people have readings with me, they can sense the spiritual energy flowing through.
Before I start my work, I prepare myself. This can be with meditation, playing with the animal kingdom or enjoying nature. I then prepare the room I work in, which has homemade candles, my beautiful animals and I welcome the spiritual side to guide me.
I have Psychic, Clairvoyant, Medium, and Spiritualist abilities. When I do a psychic reading - I relax my mind enabling me to open the third eye. Once the third eye opens up, I start tuning into the soul of that person and start seeing what they are thinking about, that person doesn't have to say a word. I open the doors of destiny, fate and tell that person what is going to happen about whatever they are thinking of. I open the doors of the afterlife and welcome the spiritual side which is classed as mediumship. I can see the colours dancing around people's aura and the aura says so much about that person. I also have the ability to tune into the mind of who ever that person is thinking about; be it their colleagues, friends, lover, or family. I can also tune into peoples past lives as knowing who we were can assist in this life and is very interesting to find out.
Many customers have commented that I get straight to the point and I speak crystal clear. I do believe it's very important that the customer understands everything the psychic sees with the third eye. Being psychic is a gift the universe has given to me and my mission is to uplift the veil and see what others can't see.
Ellie's feedback
Ellie is the real deal. She goes deep into the soul and sees the bigger picture. I am grateful to be able to speak to Ellie over the years.
Gina
Ellie was great, she picked up on my situation instantly, she has a lovely warmth to her readings and also picked up on something else that was on my mind but I hadn't called about! A great insight and talented lady! Thank you Ellie you have a true gift!
Sandra
I have been having readings with Ellie now for well over two years. She has really supported me with the problematic situations in my life. Everything that was said to me has happened over time, giving me the firm belief that every reading I get from Ellie will enable me to sort my life path out no matter how complicated it seems. Ellie is a very caring, funny, soothing and sensitive person who puts you at ease straight away in the first few seconds of the call. Thank you Ellie for your support and insight and I will speak with you very, very soon.
Jackie