PIN: 1133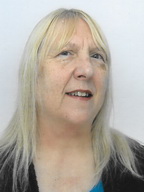 I began to see Spirit at a very young age, but it was many years later that I decided to try and develop the gift I had further. I sought out a development circle that would enable me to sit with like-minded people and to study and research all aspects of mediumship and psychic phenomena.
I soon learnt that meditation played a very big part in mediumship development. Sitting in total silence with the same people at the same time every week soon proved to be the opening up of my spiritual pathway. Soon messages and guidance were being given for myself and other members of the group.
After a number of years I was very fortunate to be invited to join another group, whose main purpose was to train people who wanted to learn how to channel Spirit in an altered state of consciousness - known as trance. This was a three year course which when completed enabled me to serve spiritualist churches for evenings of clairvoyance and divine services where I would give the address in trance.
By this time, seventeen years ago, the local spiritualist church which I had been involved in running made me president and I began to teach meditation and mediumship/psychic development. This gave others the opportunity to improve and polish their gifts, and to enable them to also do platform work.
Healing is also very important to me, to be able to channel healing from Spirit is a privilege, I do spiritual and Reiki healing to both humans and animals and usually it have proved to be beneficial to the recipients.
Discovering and learning about the different ways to communicate with Spirit has kept me intrigued over the years and even twenty-five years later I am very aware that without the connection to Spirit it would not be possible to do the work that I so enjoy.
Before doing readings or taking a church service I always meditate for a short time. I ask my guides to come near and give me words for those who are looking for guidance. I also ask for their loved ones to come close and give words of comfort and upliftment where appropriate.
The ability to see Spirit occurs more frequently than you may think, for example whilst most would not see Spirit in a solid form there are lots of people who see light orbs and shadows - usually when they are not thinking about anything in particular, and out of the corner of their, but because it is for a fleeting moment it is dismissed as imagination. It sometimes takes Spirit a while to be able to communicate with the Earth plane as the vibration in spirit world is much lighter and less dense than the Earth planes, this does not mean that your loved ones are not with you, it just takes time for some to adjust. The medium also has to try and heighten their consciousness to make the connection - clearing the mind of earthly things and opening the mind for the energy to flow.
To communicate with Spirit, all you have to do is speak to them - you don't have to say the words out loud - our thoughts are very powerful things, they are heard by our loved ones in the world of Spirit. They really are just a thought away!
I love using the gifts that have been given and feel very blessed that Spirit allows me to work with them. I never take anything for granted for without my Spirit Guides inspiration I could not work.