PIN: 3622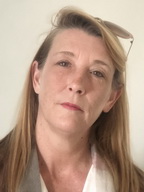 Adele is a natural gifted intuitive Empath and Clairsentient. She is also a spiritual Artist and Teacher of Art and Design. Adele has a passion for creating a better world for people and wildlife.
As a reader Adele has over thirty years of experience; in both the healing arts and the art of the Tarot. She started reading the Tarot when she was fifteen and progressed from there learning to tune into energies. As she grew in age and maturity more channels were opened up to her. Her sessions with clients include her psychic abilities as well as spiritual counselling, guidance and wisdom.
Spirituality has always been very natural to Adele and has been present since childhood. Being a Spiritual and Psychic Artist is an intrinsic part of her life. She feels that art is a drive, a very complex desire, need, urgency and pleasure. For her art is the feeling and emotions of the artist, seen through their eyes, felt through them. When in the process of creating art, Adele feels as if she is tuning into something beyond the five senses. Adele has always been sensitive to undercurrents and since she was young felt highly attuned to the beauty of nature, serenity and the power of Spirit.
As a devoted wife, mother and grandmother of a large growing family she has extensive experience in family matters, relationships and the challenges of life and love. Adele understands these complex relationships give your life meaning – the joy of each other, the joy of challenge. Let her support you in the joy of growth, in living in the joy of the moment and dancing the cosmic dance, to harmonise and balance your mind, body and soul.
As a reader Adele offers vast experience and a wide range of disciplines including colour therapy, spiritual art, healing art, Tarot, palmistry, dream interpretation, astrology and creative visualisation. She works with the energy of crystals and nature's natural support systems. Adele also has the line of intuition on both of her hands – the line of intuition indicates a powerful intuition with strong psychic and healing abilities. She has the ability to channel and pick up energies, vibrations and auras.
Adele strives to be a professional who is able to offer extremely meaningful and insightful information for client's wellbeing and their highest good. She is committed in reinforcing positive feelings, for a better and balanced life. Her aim is that client's will feel energised and empowered.