PIN: 5678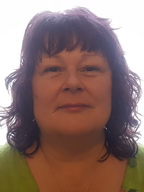 Georgina's first memory of Spirit's presence was around the age of three years old, when she became aware of a spirit that used to communicate to her via thoughts and pictures. Her mother had mentioned that even as a baby she used to look past her and gurgle and smile at what she felt where people in spirit.
Although psychic and mediumship gifts have been in her family on both sides, her parents, while growing up did not use their own abilities, leaving Georgina to explore her intuition and spirituality alone (in human terms). By aged eleven she could remote view – seeing great detail that she was able to describe to others. At this age, she also became aware that there were energy centres in her palms with one being positive and the other negative, which she later understood was connected to channelling healing energy.
It was when she walked into a spiritualist church for the first time in her early twenties that she began to understand more of what she had been receiving and intuiting all her life, and this was also the springboard for her healing path. She would go on to offer clairvoyant, claircognizant readings where Spirit often popped in to share some insight or message to the person she was reading for.
Georgina has always enjoyed and been supported by a natural affinity with angel's universal field realities; animals and nature which she would communicate and receive insights from. Presently in her late fifties, Georgina has spent a lifetime personally growing and developing and expanding both her gifts on the spiritual connection – channelling/reading side and the healing – nature connective and animal communication side, it has been a way of life and living for her, for as long as she can remember.
In addition to holistic educational therapy, Georgina specialises in song-keeper apprenticeships (freeing people's voices) and applied eco psychology. She bases all her work on levels with the way nature and spiritual Intelligence works to create a greater sense of connection, fulfilment, and self that is constantly a part of a greater whole.
Through her readings, Georgina offers many other abilities, such as spiritual healing, meditation, pranic healing, angelic Reiki, sound & crystal healing and animal healing.