PIN: 3032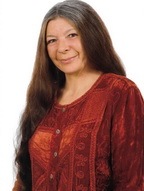 Jancey is a warm gentle reader who uses Tarot cards and her clairvoyant abilities to provide a way forward and guide the client with life choices. Jancey has worked with the Tarot for over 60 years, enhancing her natural abilities handed down through her grandmother.
Spending quite a few years getting to know the cards, and increase her intuitive ability, Jancey began reading in her teens, initially for friends and then developing a client base; through psychic fairs and Mind Body & Spirit events.
Her grandmother, and grandmother's great aunt inspired Jancey's interest in all things spiritual, leading her to study tea leaf reading, palm reading and also become a Reiki Master. Jancey believes that Reiki is an excellent way of directing your energy into a more positive state, balancing your Chakra's as you meditate. She now uses all of these gifts to assist her clients to the very best of her ability.
Her friendly, understanding reading style, will tell you 'how it is', in order that her clients have a greater overall picture of their situation. Her aim is to give the facts and to emphasise the positive in all of her readings. Believing that it is better to be candid about the information received so that the right life decisions can be taken moving forward.