PIN: 3445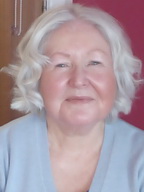 Betty was aware of Spirit from a young age and her gift was passed to her from her mother. She feels very blessed to have her gift and works with her guides and angels to offer guidance and comfort to those that seek it. Her work is very close to her heart and she loves doing it.
Through her readings, the caller will receive the encouragement and comfort to deal with the situation that is troubling them. As well as any message that come through from their loved ones.
After many years' experience of working with her guides Betty has learned many different things about life and herself. Including that we do indeed come here to learn the lessons that we need to learn in order to make us stronger and wiser. She believes that life is an ongoing journey and if we use it wisely, we can benefit from it, in so many different ways.
Betty is a natural reader and does not use any tools when working. She gets a great deal of satisfaction working with people who require assistance, to deal with their problems and also from connecting them to their loved ones. She is an honest and caring psychic medium who through her readings hopes to give confirmation that life does indeed continue and to leave the caller feeling better than when the conversation started.
As a reader Betty takes calls regarding all of the problems that we face in life so you can ask her about anything that concerns you. She will work with her guides to give you the assistance that you require to open up your mind to greater clarity regarding your situation.
The environmental issues that are concerning us in today's world are very important to her. Betty feels it is only right that we take responsibility for our actions and try to do more to leave the planet in a safer and better way. To ensure that future generations can enjoy the beauty and wonder of all that earth has to offer. It feels it is our birth right to be able to do so.
Betty has had many personal experiences herself with Spirit and feels very blessed and grateful to be able to do the work she does. She would never be without her guides in her life. Betty feels that her life would be so much poorer without their loving presence as they are with her every day.