PIN: 3443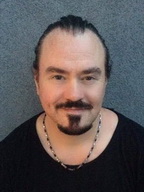 Robbie has felt the presence of Spirit from an early age. He developed in a meditation circle in church after his parents passed away within six weeks of each other to communicate with them. Quickly he was channelling his guides and now works with Archangel Metatron and his guide Yashubi. Last year he did a 79 day master cleanse and during this time channelled a book called 'Metatron, this is the Clarion call'. There is a group who are meeting in New York City now to study/meditate from his book and many people are becoming interested in what it has to say about ascension and the spiritual transformation that is happening on Earth at this time.
A student of positive thinking he is bright and bubbly and has a contagious enthusiasm that gets people motivated and inspired. His healing guides are very powerful and he is a Reiki master that is infused with Metatronic energy during his healings, which affects a great change within his clients. Robbie is very excited about this time to be alive and can see the potential brilliance of every one of his clients, and the angels bring that out within themselves, as he is told of how amazing that they can be when they have the right mental tools to get where they want to go in life.
Robbie knows only too well how hard separation from a twin flame can be and his guides give him the insights and wisdom to be able to heal the wounds and point the client in the right direction.
Robbie realises that it is not him who does the work but the spirit that runs through all life and he is grateful to be able to serve humanity with the gifts that he has been blessed to receive.
Robbie's feedback
I have just had a wonderful reading with Robbie as a result of which I am no longer depressed. I feel I can begin to face the future with a positive attitude. He made me laugh and smile inspite of the fact that when I picked up the telephone I just wanted to cry.&
Su