PIN: 3621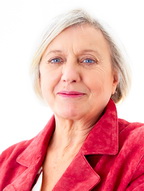 Luchia has been using her clairvoyant skills alongside Tarot and palmistry for over thirty years. As a reader she gives insight and guidance on matters of the heart, home, business and work as well as spiritual wellbeing.
It was in early childhood that Luchia's clairvoyant abilities first manifested with vivid dreams, as well as a clear memory of visits from an old lady with a plait down her back, who would sometimes appear in her bedroom but never spoke, but in time those visits ceased. Thinking back, Luchia has realised that there were many odd inexplicable incidents through her childhood which she accepted as normal which in hindsight were anything but!
As Luchia approached adulthood she was already a budding palmist and had begun to explore and use Tarot cards and she has remained fascinated by these spiritual tools ever since. As an avid reader throughout the years Luchia has explored strands of spiritual thought such as Kabbala and the I Ching and believes that as long as you use such philosophical spiritual systems with seriousness and caution, they can be wonderful personal guidance tools.
Also, in her toolbox are therapeutic skills such as Reiki, spiritual healing, hypnotherapy, numerology, pathway work and techniques in psychic protection. She is also a life coach. Luchia has taught Tarot and palmistry for a number of years as passing on knowledge and ensuring someone has a good grounding gives her satisfaction as well as keeping her own skills updated and refreshed.
Luchia has lived and worked in several countries such as Spain and the USA, this has given her a great deal of life experience, as such she has a magician's hat full of other skills including many years of working in the NHS with transgender people. However, she is always drawn back to the spiritual pathway and never tires of using what and who she is, and what she has learnt for the benefit of others.
As far as Luchia is concerned Spirit can still surprise you when you least expect it and there is always a lesson to learn. Luchia recalls being sat in a circle in trance when suddenly she met a red fox in spirit, an experience that was so profound, intense and full of love it has to rank as one of the highlights of her life as she realised the gift of a spirit companion.
Luchia believes we all are deeply challenged at some point in our lives and without exception stand in some trepidation at an unfamiliar crossroads, she believes the clairvoyant's role is to be at your side, guiding you as you explore your choices, understanding your needs, feeling your doubts, and strengthening your spirit.