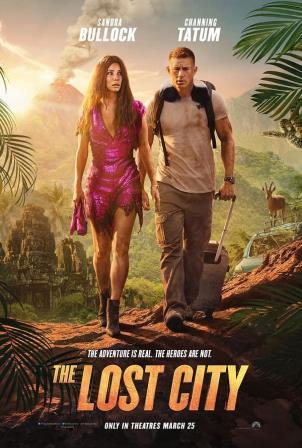 So, what kind of film is The Lost City? Well, some have described it as 'Romancing the Stone-esque'. If you are too young to know what that means, it is a Rom-Com with an adventure twist.
Sandra Bullock plays a reclusive writer called Loretta Sage. Alan, played by Channing Tatum, is her book cover model. They get entangled in a kidnapping – in the jungle of all places, at the hands of Daniel Radcliffe – who plays eccentric billionaire Fairfax.
Spoilers
As you will see from the trailer, Channing Tatum spends a bit of time in the movie – naked! Albeit with leeches stuck to his rear-end. One can only imagine the hilarity that caused behind the scenes, with well-known comedian and joker Sandra Bullock as the co-star!
But, if the nudity wasn't enough, it would seem that alongside Channing and Daniel – another well-known male actor turns up for a good number of scenes – none other than Brad Pitt.
Release & Trailer
On this occasion, the US will see the film first – on the 25th March, but it will not hit UK cinemas until the 15th April 2022.
https://tinyurl.com/pl-thelostcity
The Lost City – Plot
In a nutshell, Fairfax believes that Loretta can take him to the lost treasures that she describes in her latest novel. So, they go deep into the jungle. Alan follows to rescue her; although he has CPR training, snacks and other skills, it would seem he has read a bit too much of Loretta's work; and is trying to embody her protagonist – Dash and prove himself a real-life hero. However, Alan's plans prove somewhat unsuccessful – hence in rolls Brad Pitt!
Funny Story
It seems that Brad Pitt; was convinced to act in the film by his hairdresser, who happens to also be hairdresser, to Sandra Bullock – it is a small world! Then followed a Zoom call (how very 2021), and the rest, as they say, is history.
The Lost City: Cast
As you might imagine from Sandra Bullock, who does have a very nice-girl reputation, she was very complimentary of the cast – particularly of Daniel Radcliffe and his ability to convincingly play the baddie. "He's so crazy handsome and devious,' she said, adding, 'I don't know how to explain him. But you wouldn't think that he plays sinister so beautifully and calmly and in such an attractive way. He's going to really surprise people."
Film poster: courtesy of Paramount Pictures Studios
Tweet