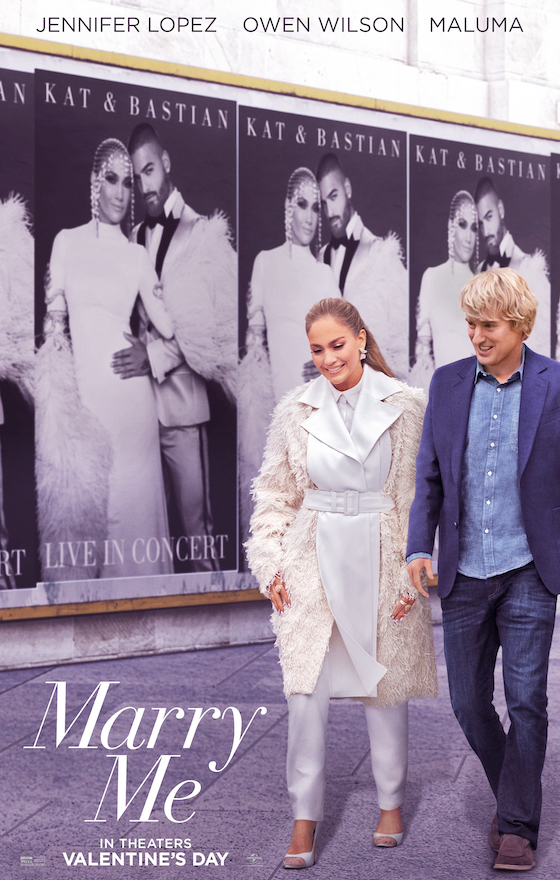 On the 11th of February, just in time for Valentine's weekend, a new romantic-comedy is out in cinemas across the UK, called Marry Me. The film was written based on a graphic novel by Bobby Crosby.
The Stars
Jennifer Lopez is one of the main characters; she plays Kat Valdez, who happens to be a musical superstar! She is part of a power couple. Her partner is a music supernova named Bastian. Interestingly the person who plays the role of Bastian is in his first feature film. However, he is no stranger to stardom, as well-known Columbian singer-songwriter. His real name is Juan Luis Londoño Arias, but professionally he goes by Maluma. The film features many original songs by both Jennifer Lopez and Maluma.
Trailer
You can see from the trailer that the power couple have an inescapable hit; called Marry Me. The song climbs the charts and, their fans go into a frenzy. The couple agrees to marry for real in front of a 20 million audience. However, just as Kat is getting ready, social media blows up, uncovering the facts that Bastian is cheating; and with Kat's assistant.
'Marry Me' Story
The story then segues to Owen Wilson, who plays a Math teacher called Charlie Gilbert. He goes to the concert alongside his best friend (Sarah Silverman) and daughter (Chloe Coleman); it becomes clear that his wife left some time ago, and it's been a while since he's had any fun! Well, that soon changes.
Kat enters centre-stage, in somewhat of a daze. She is questioning everything she ever knew about trust, truth, loyalty and love! In a moment of insanity, she decides to do 'something different'. At that moment, best friend and daughter thrust a 'Marry Me' sign into Charlie's hands. Across a sea of people, Kat chooses Charlie to be her husband, and they wed there and then on stage!
The unlikely relationship then unfolds. Many things conspire to keep them apart. It is an unusual romance with two different people from polar opposite worlds. The only question is can they bridge the gap between them and build a relationship where they both belong?
Modern Rom-Com
The film brings a modern twist to the rom-com genre, playing a love story in a celebrity and social-media obsessed world. Something that Jennifer Lopez is no doubt familiar with in real-life, with the press-frenzy over her recent re-coupling with Ben Affleck.
Marry Me Trailer:
https://www.universalpictures.co.uk/micro/marry-me 
Tweet