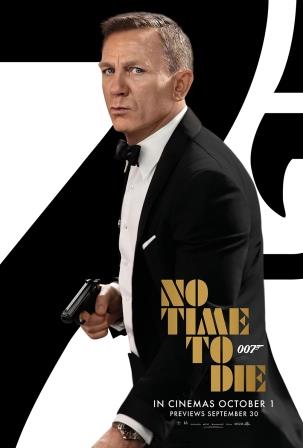 At the start of the film, James Bond is not actually in service. He is no longer working for Her Majesty's Service, and is in fact living in the Caribbean. Jamaica is seen as Bond's spiritual home, where his journey started.
The Story
"His peace is short-lived when his old friend Felix Leiter from the CIA turns up asking for help. The mission to rescue a kidnapped scientist turns out to be far more treacherous than expected, leading Bond onto the trail of a mysterious villain armed with dangerous new technology."
Director
The making of this film has not been without its problems. In fact, filming wrapped on the very day it should have originally been showing in cinemas. Problems go back as far as August 2018 when Danny Boyle quit as Director. He was eventually replaced by Cary Joji Fukunaga, whom you might know from Maniac – a Netflix series and for his work on TV show True Detective where he scooped an Emmy.
Theme Song
Bond films are famous for their theme songs, this time the accolade goes to Billie Eilish, for a song with the same title as the film. She is in fact the youngest artist to produce a 007 theme. The tune was co-written with her brother – Finneas.
Bond Cast
Many of the cast are reprising previous roles, such as: Fiennes (M), Lea Seydoux (Madeleine Swann), Naomie Harris (Moneypenny), Ben Whishaw (Q), Rory Kinnear (Bill Tanner) and Jeffrey Wright (Felix Leiter).
The new Bond antagonist is played by Rami Malek – his character is called Safin. Lashana Lynch plays Nomi, who so say is set to inherit the 007 code name! Of course, no Bond film would be complete without a love-interest (Paloma), played by Ana de Armas.
Bond Release Date
Previews are in UK cinemas from Thursday 30th September 2021, with an official release date of 1st October.
Trailers and more…
Who will be the next Bond?
Daniel Craig burst onto our screens as James Bond in Casino Royale in 2006, but his reign as 007, comes to an end with No Time to Die. So, that leaves the much-debated question of who will be the next Bond?
Plenty of actors have been toted as possible replacements. From Henry Cavill, who more recently has been in Netflix's 'The Witcher'. Benedict Cumberbatch (The Imitation Game), could bring a softer take on the game of espionage… Tom Hardy, his Mad Max experience would make him perfect for the demanding role of death-defying stunts that playing Bond requires. Many favour another Tom – Tom Hiddleston for his oh so British Charm! A younger Bond could be played by Nicholas Hoult, but Charlie Hunnam, Jude Law, James McAvoy, David Oyelowo, Simon Pegg and Idris Elba have also all been discussed in the press as possible's, with Idra Elbis having much public support.
Tweet