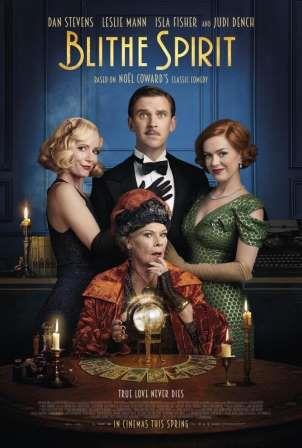 If you were a fan of Downton Abbey, then you will recognise Dan Stevens who played Mathew Crawley. Blithe Spirit would have been released in May of 2020, but due to the pandemic it was rescheduled to Boxing Day, and then again to 15th Jan 21. Where it will now have a simultaneous release in cinemas, on Sky Cinema and NOW TV.
Starring Roles
The film is a new depiction of a classic Noel Coward comedy. If fact, it has been put on the screen before, but the cast alone make this a worthy outing. Isla Fisher (our cover star), Leslie Mann and Dame Judi Dench to name a few.
Blithe Spirit Synopsis
Dan Stevens plays Charles Condomine, he is somewhat of a playboy with a career as a crime novelist. However, he starts to struggle under a looming deadline, and a severe case of writers' block. His second wife, Ruth, played by Isla Fisher has designs on heading to Hollywood, and as such she wants to keep him focussed and writing.
Charles' search for inspiration continues, and in a desperate attempt to get the writing juices flowing, he invites a medium to his home to perform a séance. The medium is called Madame Arcati and is played by none other than Dame Judi Dench. In fact, Dench is no stranger to Noel Coward roles, but this is her first time playing the medium.
The medium however was recently exposed as a fraud, so imagine Charles' surprise when she conjures up his deceased first wife – Elvira! Leslie Mann captures the fiery personality and jealous tendencies of Elvira, bringing much of the comedy to the film.
Now, there are three problems, writers block, Elvira – that only Charles can see! Oh, and the fact that Elvira hatches a plan to kill Charles, so that they can spend eternity together. A comedic love-triangle ensues…
A Modern Take
It's not easy holding true to the concept of a novel, whilst bringing it up to current times, in terms of language and sentiments. The writers have gone for a 21st century attitude, especially to the female voices, in regards to the love-triangle aspects.
Madame Arcati's role is probably expanded more deeply in the film, whilst this is a comedy and whilst their intentions for the séance aren't exactly wholesome. The medium underneath it all, has really one real desire – to see Donald again, her one true love!
Trailer – courtesy of STUDIOCANAL
Tweet