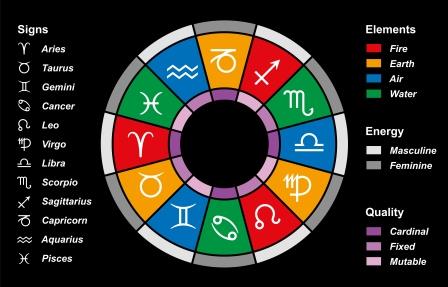 Cardinal
Cardinal zodiac signs are proactive and innovative; they are natural leaders and as such don't take instruction easily from others!
They have a motivation to succeed, are strong-willed and can be powerful and commanding.
Aries is a fantastic example of 'cardinal behaviour' – they have great personal drive. They always seem annoyingly ahead of everyone else. You'd have to get up early to catch them out! They are dynamic, adventurous and resourceful.
Cancer seeks out its control in a different way, ruling the roost at home – keeping family and domestic matters just as they like. They are tenacious and will move to keep emotions in check!
Libras drive isn't seen at work, but dominates in relationships and also in their social circles. They are not pushy, but they do seek control in matters of the heart particularly.
Capricorn definitely shouldn't be underestimated, its Earth basis would normally de-rail personal drive, but this cardinal sign is in fact the most ambitious sign in the zodiac.
Fixed
Fixed astrology signs prefer routine, they can be rigid in their thinking and they often resist any sort of change. They feel they will be happy if things just stay as they are!
They don't give up, even perhaps when they should (which is often interpreted as stubbornness). They are truly loyal – making them great friends. They also demonstrate profound thinking.
Taurus like stability, and tries to achieve it no matter the personal cost. They are reliable, but can be overly cautious – to the point of limiting their life experiences.
Leo is perhaps the least flexible of the fire signs, they embody the difficulty with change that is a 'fixed' sign. Unlike the unpredictability of fire – Leo are not impetuous.
Scorpio is intense and sometimes difficult. Their obstinate behaviour makes them sometimes immovable, leading them into emotional ruts.
Aquarius is not an obvious 'fixed sign', as usually they are flexible. But at times that fixed inflexibility rises up and when it does the sign gets stuck in a negative behaviour merry-go-round.
Mutable
Mutable signs are great at team-work, but having said that they struggle with rules – if they can't see the sense in them. Three mutable signs are what are known as dual signs, like Gemini that regularly go back and forth with two viewpoints. But Virgo is the exception in this 'mutable' sub-set, seeing things only from one perspective.
Regardless, all four can show signs of unreliability and of getting easily bored. They are great multi-taskers, and keeping them interested and inspired is the key to happiness.
Geminis mutable quality lets this sign try changing ideas and its response can move and go with the flow.
Virgo shows its mutability through adapting its need to the environment it finds itself in. Also, through helping others, it is lightened from its usual earthiness.
Sagittarius channels the quality through exploring all that life has to offer, which in turn pacifies their restless natural state.
Pisces uses the mutability to help where it would otherwise struggle to adapt to changes both in their inner life and the outside world.
Tweet