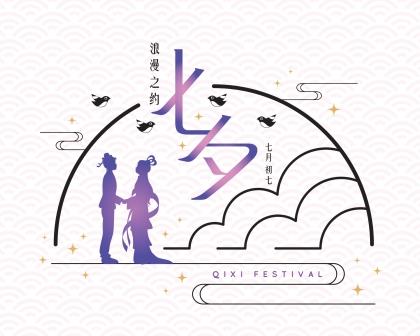 Qixi is otherwise known as The Double Seventh Festival, based around a romantic legend story. So named, for falling on the 7th day of the 7th month (Chinese Lunar), in 2020 that falls on Tuesday 25th August.
Could your love-life do with an injection of romance? Then 6 months after our own Valentine's Day, why not embrace the Chinese equivalent called Qixi?
Legend
www.chinahighlights.com describes the legend as following:
"An oxherd Niulang with the help of his ox (the demoted cattle god) married a fairy, Zhinü, who became a weaver girl. Zhinü's mother, a goddess, returned Zhinü to heaven. Niulang pursued using the ox's hide. The goddess separated them by a river of stars (the Milky Way), but magpies were allowed to form a bridge for them to meet once a year (Qixi)."
Origins
The festival can be traced back to the Han Dynasty; whilst the celebration was added to the National Intangible Cultural Heritage list in 2015, it isn't a public holiday.
Traditionally, certain activities took place on the day by way of celebration, for example:
Demonstrating dexterity or (showing skills), like threading sewing needles in moonlight. Or carving sculptures from fruit.
Creating an offering to the weaver fairy. Laying up a table with tea, fruits and nuts, whilst displaying their crafts. The young women might play games and read poetry until midnight, whilst worshiping the star Vega and praying for a husband and happy life.
Oxen were also honoured, often by children picking wild flowers and adorning the oxen horns!
Skill Fruit would also be eaten – a type of shaped thin pastry.
Celebrate Today
Many young people have adopted Western practises of giving flowers, chocolates and small tokens of their appreciation for their loved one. Whilst the traditional customs may have died off apart from in rural areas, it is nice to know the legend is passed on from generation to generation and that the sentiment remains.
Tweet