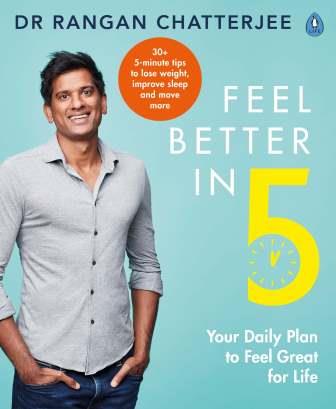 Did you do Veganuary (going vegan for January)? Or perhaps you tried Dry January (going alcohol free for the month)? Taking drastic action on the diet, drink or health front in short bursts has been growing in popularity. With many being able to make their will-power last the duration, knowing the fixed period will come to an end.
But, what do you do with your health for the rest of the year?
Well, Dr Rangan Chatterjee, has a new book out called Feel Better In 5 (Penguin Life). That just might be the answer…
You might know Dr Chatterjee from the BBC programme Doctor In The House and podcast Feel Better Live More. He recognises that making positive health, mind and body changes is incredibly difficult and that sticking with it, and maintaining the required will-power and motivation can be tough.
Meaningful Changes
So, his new book focuses on ways we can make meaningful changes, that actually fit in, rather than work against our lifestyle and take up on only small amounts of our day.
Dr Chatterjee firmly believes that looking at health in three specific ways – Body, Heart and Mind is key. So, with this new plan each of these areas is allocated a 5-minute time slot per day. So, you are investing 15 minutes a day on your health – not bad!
15-Minutes Per Day
It's natural that people will be sceptical about whether 15 minutes per day is really enough time to make lasting changes, that will actually bring about noticeable health benefits. But he counters this with a very logical argument: If for 5 minutes per day you took up chain smoking, you took 5 minutes and ate biscuits nonstop or you did nothing but drink soda in a 5-minute time span. Over a period of days, weeks and months you would expect to see some very negative implications as a result of your behaviour. So, turned on its head – 15 minutes a day really can help improve your weight, your stress levels, your sleep and more…
Mind, Body & Heart
The Mind section of the book is broken into: The Brain Tap, Simple Breathing, The Gut Bugs Health Snack, 5 Minutes in Nature and 5 Minutes of Flow.
The Body: The Morning Wake-up Flow, The HIIT Squad, Desk Jockey Workout, The Clock Workout and Just Play!
The Heart: Tea Ritual, Phone a Friend, The Gratitude Game, Celebrate Others and The Forgiveness Practice.
Dr Chatterjee's thoughts are to make being: healthy, fun, personalised, simple and involve family and friends. Why not give it a try?
Tweet