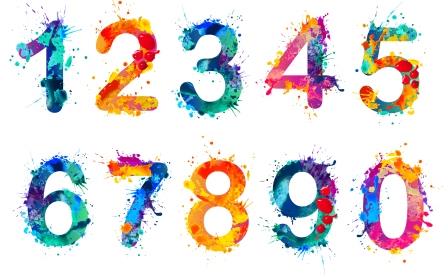 Many things determine our personality; but it all starts with the day we were born. Numerology is a mathematical way of calculating our likely characteristics using the numbers connected to our birth day. If you were born on the 1st – 9th of the month, no calculating is needed. Otherwise add the numbers together, until you get a single digit. For example, a birthday on the 27th add 2 + 7 = 9 or if on the 29th add 2 + 9 =11, then 1+1 = 2.
Here's a quick rundown of the Numerology Character Types:
Type 1
You are a positive person, and are great in a crisis. You have perseverance in abundance. You are a helper, wanting to guide others, especially if family and friends are going through difficult times. You can be stubborn, and often have an unusual viewpoint – make sure your opinion is welcomed before interjecting!
Type 2
Providing emotional support to those around you, is what you do best. You are highly spiritual, and a fantastic listener. Providing sage advice and comfort to many. Your biggest struggle is recognising that it is okay to need help yourself. You will never ask for guidance, and yet your many admirers would be glad to return the favour.
Type 3
As a people pleaser, you spend a lot of time being busy trying to satisfy everyone. You are gregarious and passionate, and enormous fun to be around – life is never boring! But friendships and relationships often need more nurturing, and so slowing the pace a bit and carving out quality time for those that mean the most could be truly enriching.
Type 4
You don't always find it easy to trust, it can take you a while before you let someone see the 'real you'. You are totally loyal as a friend/partner, but your desire to be sure they are worthy, and match your values, means some opportunities will pass you by. Loosen up a bit, don't be so self-critical and anything can happen!
Type 5
You're highly social, and have many friends. There is a certain magnetism to you. Very likely as you have an innate ability to make people feel special. You listen, you engage and draw people out – it makes everyone feel unique and seen. For deep, meaningful and lasting relationships it's important that you let others see you too…
Type 6
You've got very strong maternal instincts; you are a protector. This is the same whether it concerns family, friends or a lover. You are a rock to many, but don't forget to show yourself kindness and compassion. It is easy to get too tangled in others affairs. People have to be able to make their own decisions and their own mistakes.
Type 7
Intuition and psychic abilities are strong for you. This means you often intuitively know what is going on in the lives of those closest to you, without them having to tell you – both a blessing and curse! In your own humble and quiet way, you are always ready with words of wisdom. Know that you are trusted and loved.
Type 8
You are a philosopher at heart – always wanting to ask the big questions! You are insightful, and others seek guidance from you. But a word of warning – they may not always act on your advice, something you find frustrating… You are also a strong believer in karma, so trust all will come good in the end.
Type 9
Laid-back is your style, you go with the flow and are happy to adapt to others desires. Be careful that you do not lose yourself, whilst trying to maintain a status quo. Trust that those closest to you love you for you, and it's okay to be yourself. Don't be afraid to spend a little time alone, give yourself the opportunity to grow, even if it feels scary.
Tweet