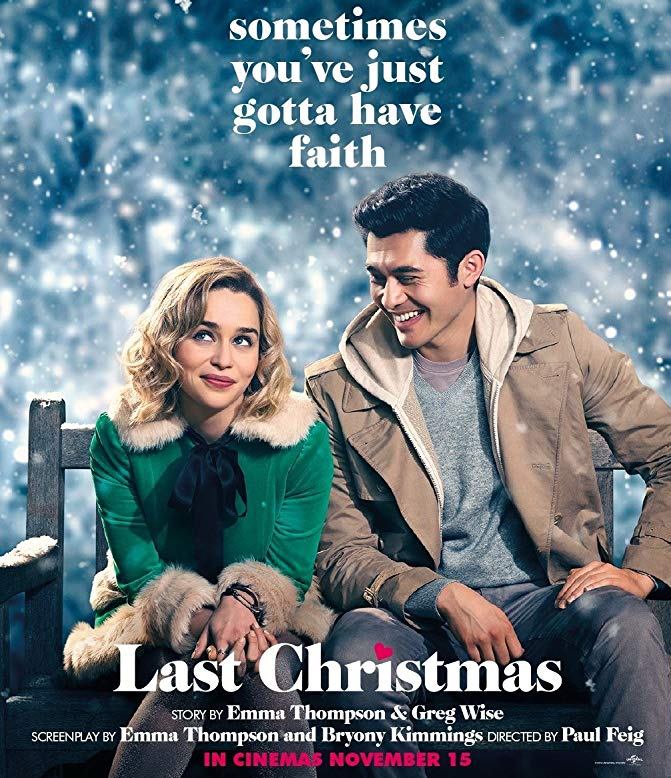 Last Christmas? I know what you are thinking, it's only November? So, why am I talking about a Christmas film? Well, this movie does have a Christmas back-drop, but really it is a fun-loving, light-hearted British rom-com, that just happens to be out in UK cinemas from the 15th November 2019.
The Cast
Emma Thompson features in the film, but she is also one of the writers. In fact, the film was inspired by a George Michael song 'Last Christmas'. George Michael was involved in the early stages of the film, but sadly he passed away before the project really got off the ground.
The two lead roles are played by Emilia Clarke (our cover star), who you might well recognise from Game of Thrones, and Henry Golding, whom you may know from Crazy Rich Asians'. The two of them play star-crossed lovers.
The Theme
If you are familiar with the 1984 hit – Last Christmas, then you will know it deals with the topics of lost love and unrequited love. And, so the theme of the film follows…
Emilia Clarke plays the role of Kate, she actually works as an Elf, but in an all-year-round Christmas shop. You might imagine that would make her happy, cheeky and full of festive spirit, but in reality, she has been through a lot and she is more scared and cynical. Perhaps not what the shop owner imagined or wanted from a Santa helper!
Emma Thompson is known for being an activist, and so it may come as no surprise that this is a more dramatic type of romantic comedy, that also deals with some more emotional topics along the way. Family, illness, homelessness, immigrants and generally people trying to repair their lives are running themes throughout the film.
Last Christmas Music
Whilst the music is important in any film, this movie is not a musical. But George Michael fans will be delighted to learn that it does contain some unreleased music, as George was working on his new album when he passed away.
Last Christmas Trailer
The trailer actually sparked some internet guessing about the male lead, with many surmising he was not alive in the film, but a ghost who only speaks to Kate.
Paul Feig – the Director has been keen to advise that the film is a nice Christmas story, and not a complicated 'Matrix' type film! "Anything anybody thinks they know about this movie is not correct." Only time will tell…
Tweet