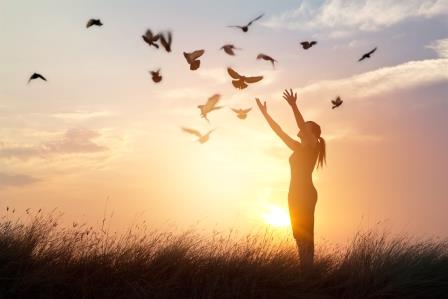 Do you ever think about a person that you haven't seen for a long time and before long they phone or you bump into them?
Or the phone rings and you think of the person before you see the number or pick up?
Consciousness
This is you tapping into the same field of consciousness that mediums and healers practice diligently to connect with you more effectively. The truth is we are all capable of this and the more you understand the way the consciousness works, the more you will get from a reading.
Connection
When you connect with your chosen reader and you project a state of scepticism or doubt, this interferes with the connection. The person trying to guide you will have to get over the mental blocks you've put in the way first, before giving you the help that you need. But, when you phone up in a state of love, flow and positivity, it gives the reading a head start to get to your solutions quickly.
For example, if you are phoning to connect with a loved one, sending the reader the love that you have for the person that you are trying to communicate with, will speed the connection and turbocharge the chosen mediums abilities.
Fruitful Readings
According to my guides, we are moving into a time of accelerated growth, which they refer to as Ascension. This is a time when our capabilities are being heightened and as a collective, we are becoming much more sensitive and more easily able to connect to each other psychically.
We are also able to use our natural healing abilities much more powerfully and effectively. This is changing the way that we communicate energetically and is making those who actively participate with psychic practices or have readings, much more powerful in their receptivity and potency.
Being aware of this can make your reading more successful. It can also help heighten your own abilities when you realise how powerful you are. When you connect with a reader who works on their own divine connection, you will feel the quickening happening in your own vibration.
Opportunities Abound
This time is the greatest opportunity for growth the world has ever seen. You are here by choice! Your soul has chosen to mindfully observe and actively participate in the spiritual evolution of humanity.
If you so choose you can see your potential fulfilled and all of the spiritual gifts that are waiting patiently for you to use, can be discovered. Each time you consciously tap into this, whether through prayer, meditation, going for a walk in nature or simply breathing in gratitude for all of your blessings, you are adding to the field of positivity that is changing the world.
As unique as you
You are unique, divine, precious and capable of so much more than you have been led to believe. As the Ascension continues, I believe that each of us will expand our gifts naturally and the divine love that we are all made of will become more apparent. Helping us to create a world that we can all benefit from.
Tweet