Jessie Buckley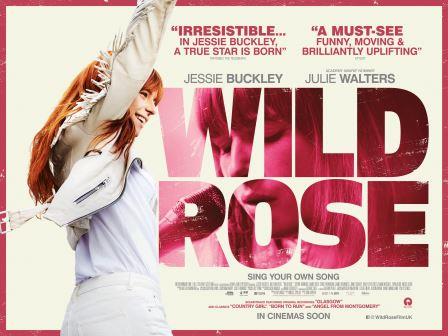 If you cast your mind back a bit over 10 years, then you might remember Jessie Buckley's appearance on the BBC TV show I'd Do Anything. She actually took second place, but not being the winner hasn't held her back in any way. She has had success in West End productions, TV shows including three series for the BBC and in film. But every singer/actor has a break out project, and the film 'Wild Rose', might just be the vehicle for showing just what a born star Jessie is.
As an Irish singer/actress, the movie Wild Rose gives Jessie the perfect opportunity to demonstrate her singing abilities. The character she plays is from Glasgow, her name – Rose-Lynn. She is obsessed with country singing and she dreams of becoming a singing sensation and making it in the home of country music – Nashville.
The Story
If you watch the trailer you will see how unlikely this seems, given Rose-Lynn is just getting out of prison on a drug charge! Complete with ankle bracelet, she re-enters the world. Her first stop should be to see her Mum, who by the way just happens to be raising her two children. But let's just say on exit from prison she has other things on her mind…
Rose-Lynn's Mum is spectacularly played by Julie Walters, she understands that Rose-Lynn had the children young, and that mistakes have been made, but now she wants her to settle down and accept some responsibility. She is fed up with the selfish attitude, none of which gels well with Rose-Lynn's dream of stardom.
I suppose Rose-Lynn, should be unlikeable in all her lack of growing up ability, but in a very British rooting for the underdog you want her to be a success and get her dream.
Making it to Nashville
Rose-Lynn gets a job working for Susannah played by Sophie Okonedo as a housekeeper. It's not long before Susannah witnesses her talent and she plots a way to get her to Nashville. In very modern style she, hosts a birthday party for her 50th, and in lieu of presents she asks her guests to crowd-fund a trip to Nashville for Rose-Lynn.
Country singers are known for writing and singing songs that are all about their lives and the heartbreak they have experienced, and in that way Rose-Lynn's Scottish 'Diamond in the Rough' persona is the perfect match for the genre. Her tattoo says the rest 'three chords and the truth'.
Hollywood Ending?
In a typical Hollywood film, the story would cumulate with great success for the lead character, but this isn't the typical feel-good story. Rose-Lynn makes it to Nashville, and it is here that you really see actress Jessie Buckley's real worth – with a true 'a star is born' quality. But at the heart of Wild Rose is a human-interest story, so in the end what does Rose Lynn discover she wants – in a classic 'Country' style of the art of music being taken from life itself, it's both everything and nothing to do with music!
Tweet