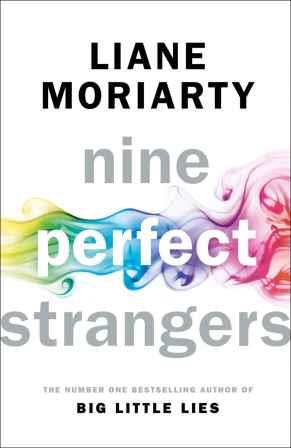 We've got three good books to explore, a thriller, an inspiring year-long journey and possibly the last self-help book you'll ever need!
Nine Perfect Strangers by Liane Moriarty
You probably recognise Liane Moriarty's name, as she is the best-selling author behind the hit HBO TV series – Big Little Lies.
Her latest book is set at Tranquillum House, a health & wellness retreat that sells itself on the basis of total transformation.
So, nine city folk that want to escape for a while from their stressful lives, dropping their mental and physical baggage as they go, via meditation, massage and more, go to the house. They are without cars, phones and all the entrapments of a modern existence that would allow them access to the outside world.
It should be a time of just getting to know each other, and getting more in touch with themselves.
The retreat is watched over by the Resort's director, a woman who can be described as 'on a mission', but perhaps her mission is at odds with what the guests are imagining or expecting…
Maybe, just maybe behind the glamorous facade – a dark agenda lies!
Thinking on My Feet: The small joy of putting one foot in front of another by Kate Humble
This book spans a year walking in the life of Kate Humble, but whilst she charts the walks and runs over a twelve-month period she also shines a light on the benefits of such a simple activity, whilst describing her feelings and impressions.
The journeys she takes by foot, allow her a unique perspective, and along the way she is able to solve problems, lift a mood and have creative ideas. She explores the reasons why walking is so therapeutic, but also challenging and pleasurable in equal measure.
Kate features others whom she has walked with, from an artist that finds inspiration for their next painting to a woman that travelled 3700 miles by foot covering every footpath in Wales following a cancer diagnosis.
The book is incredibly inspiring, and might just get you to include walking as part of your daily endeavours for more reasons than getting from one place to another!
The Kindness Method by Shahroo Izadi
Many of us will have something we would like to change about ourselves: losing weight, changing jobs, improving a relationship, cutting down alcohol and so on.
Shahroo's approach is to come at things through treating yourself kindly, so that you can affect lasting changes. She is living proof that her methodology works, as she stopped yo-yo dieting and lost 8-stone and more importantly has kept the weight off.
The book is all about changing unwanted habits, by focusing on your unique strengths and abilities and harnessing your inner power to change for good.
Book Cover Images Courtesy of:
Nine Perfect Strangers – Michael Joseph Books
Think On My Feet – Aster Books
The Kindness Method – Bluebird Books
Tweet