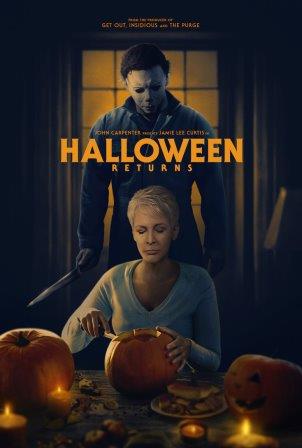 Film franchises, perhaps especially horror franchises are not necessarily known for their quality, often they just become a commercial enterprise, full of a lot of cliché's and in the case of slasher movies, just a fresh approach on characters to kill off!
But the latest 'Halloween' film, is trying to sidestep that issue, by becoming a direct sequel to the original John Carpenter film of 1978. In doing so they are not chained by continuity issues of the franchise series of films that came after. This has given them the leeway to create a narrative that actually has a story, with an underlying theme of looking at the consequences that are far-reaching and long-lasting for the victims of trauma and violence.
Whilst a serious theme is addressed, don't be mistaken for thinking that this horror movie moves away from its 'slasher' origins, because it doesn't. There is plenty of violence and scenes of gore, but at the same time there is much humour, and a clever nod here and there to the previous films.
In the original film the character Michael Myers wears a white mask, and terrorises teenagers, choosing his victims based on topical issues of the day – young adults having sex, underage drinking and the like. This unstoppable force of nature kept going until he was stopped by the 'final girl' (Laurie Strode) – Jamie Lee Curtis.
Fast forward 40 years, and Michael Myers has escaped whilst being transfered to a new psychiatric facility. Laurie has lived her life after a fashion, with self-made survivalist tactics, whilst she went on to have a child, her daughter's childhood was not easy, as Laurie lived her life believing that one day she would need to fight Michael once more. Now it seems that might be true, and yet the stakes are even higher with her granddaughter Allyson at risk!
It is very difficult for any film to surpass the original, but this movie gives it the best shot. Those that like horror genre films, will like the nods to the original in terms of storyline, but also in the soundtrack and style of filming. Jamie Lee Curtis brings everything you imagine she would to the screen, being dark, fierce and wounded all at the same time. As you would expect there is lots of tension, the violence should not be underestimated it is shockingly brutal, and yet the film is punctuated with comedy.
In interviews Jamie Lee Curtis has said that one of the reasons for signing on to do the film was that she liked the fact the script explored the effects of the trauma, and how that one event passed on to the generations that came after.
The film is out in UK cinemas before Halloween on the 19th October 2018 – watch it if you dare!
Tweet