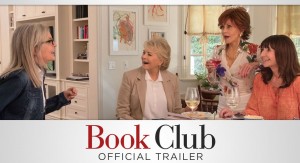 The Book Club film is released in the UK on the 1st June by Paramount Pictures and has an all-star cast featuring Jane Fonda (our cover star this month), Diane Keaton, Candice Bergen and Mary Steenburgen.
As you might imagine from the film title 'Book Club' the four stars play friends that meet regularly for a book club, where they bond over literature. That is until one day when Vivian played by Fonda suggests they mix things up a bit by reading 'Fifty Shades of Grey'!
Whatever you might think about the premise of the Fifty Shade trilogy, in terms of the writing quality or the films. There is no doubt that few things have created quite such a phenomenon in popularity for adults in modern times. So, I suppose it is natural a film has been created about the phenomena itself.
The film is supposed to be both relatable and funny in equal measure, probably because they have addressed the topic with women of a mature age.
Not everyone in the group is quick to adopt this new book as their latest novel to read, Sharon played by Bergen says "We started this book club to stimulate our minds," but Vivian is quick to reply "From what I hear, this book is quite stimulating!"
The premise is that each of the characters need to put some oomph back into their love-lives… Vivian is single, and likes to keep men at a distance, preferring a no strings attached approach up to this point. Sharon is still processing a divorce from long before and following the book delves into online dating with all its perils. Carol played by Steenburgen is the one in the group who is actually married and has been for a long time but considers things to be in a bit of a slump – judging by the trailer her attempts at suggesting her husband ties her up fall on deaf ears and then there is an incident with Viagra! Lastly Diane who plays Diane after forty years of marriage is widowed.
This is a rom-com, but with an older cast – but I don't think that should limit the age of the audience, the movie deals with friendship, sex and dating problems – issues close to many of our hearts.
For info and the trailer visit: https://www.facebook.com/BookClubFilmUK/
Tweet