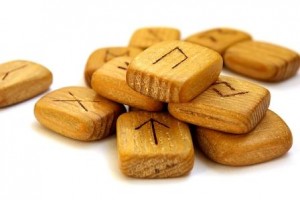 If you missed the introduction to Rune, and the first few interpretations of the alphabet – Fehu, Uruz, Thurisaz and Ansuz then click here first.
Rune Interpretations
Raido – You need to move on with your life, perhaps you are feeling stuck, this may mean on an emotional or spiritual level, but you may also go on a physical journey.
Kaunaz – To see the right way ahead, you must first shed light on your current life story. Better understanding will come from looking honestly.
Gebo – Love. Generosity. Gifts. Working for a higher purpose.
Wunjo – A happy relationship and the joy that brings. But also, contentment in general – you are happy with your lot!
Hagalaz – It is a time for morale courage, things may feel out of control – take things one day at a time.
Nauthiz – Perhaps there is friction between you and someone else? A sense that your needs are not being met on all levels – emotionally, spiritually and physically.
Isa – You are stuck in a rut, you are clinging to what you know, but it is leaving you stuck. No progress will be made until you are prepared to be brave and make a change.
Jera – Karma. Wisdom that is borne from life experience and time.
Eihwaz – Intelligence. When you are faced with challenges, it is the time to dig deep and be strong.
Perth – The mysteries of life – you will not always understand everything; a certain amount of faith and trust is needed!
Algiz – Psychic Protection, especially when providing healing and during meditation. This represents the importance of taking care of oneself.
Sowelu – Confidence. Vitality. Optimism. This is an encouraging stone, especially if drawn during times of trouble, representing that a difficult situation will improve.
Teiwaz – Success in business. Strength of purpose. Determination. It is right to soldier on when the going gets tough.
Berkana – Birth. Life. Representing the importance of nurturing and caring for things that have recently come to life.
Ehwaz – Travel – in all its forms. Be cooperative, cohesive relationships with others are important.
Mannaz – Use the intelligence you have. Be self-aware, notice how your behaviour impacts others.
Laguz – You may need to cleanse your life of something or someone! Connect with your unconscious, use your intuition and interpret your dreams, what you need to know is there for the taking.
Inguz – Fruitfulness in all forms. Living in total harmony with nature and its seasons.
Othila – Inheritance – in all forms, from possessions, to genes to personality traits.
Dagaz – Enlightenment. Starting over. The end of one cycle and the beginning of another. Change.
Ref: The Encyclopaedia of Mind Body Spirit
Tweet