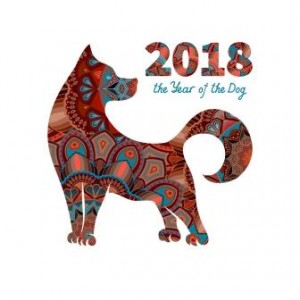 Chinese New Year commences today on Friday 16th February 2018, bringing in the year of the Dog and saying goodbye to the year of the Rooster.
The Years
Those born in 1934, 1946, 1958, 1970, 1982, 1994, 2006 and 2018 were born in Dog years. The next Dog year after 2018 will be 2030. The Dog is the eleventh position within the Chinese zodiac, following the Rooster and falling before the Pig.
Elements
China also works with element theory, so each zodiac sign is also associated with one of the five elements: Gold (metal), Wood, Water, Fire and Earth. The characteristics of a person are therefore impacted by both their animal sign and element.
Dog – Gold: 1910 & 1970 – Traditionalist, restrained, ready and willing to help others.
Dog – Wood: 1934 & 1994 – Genuine, Caring, Patient, Empathetic and Dependable.
Dog – Water: 1922 & 1982 – Self-interested, brave, excellent with finances.
Dog – Fire: 1946 & 2006 – Industrious, smart, sincere.
Dog – Earth: 1958 & 2018 – Talkative, forthcoming, serious, strong worth ethic.
Characteristics
Those born in the Year of the Dog, are cautious by nature, with a strong sense of loyalty. They are kind people, who try to be amiable, for their family and loved ones they will try to do everything in their power to meet their needs and make them happy.
One of their strong character features is honesty, having said that communicating is not their best trait. They are sincere, but often find it difficult to convey their thoughts out loud to others. This can sometimes be misconstrued as stubbornness.
Whilst they understand bad things go on in the world they would rather not dwell on these points, instead they prefer to focus on a quiet life with family and friends. If they do comment on current events, others may think their feedback is overly harsh and critical, but this is just their pessimism escaping to the forefront, something at other times they try to keep in check.
They often put others needs ahead of their own, but loyalty is a quality they must receive in return, if they feel they have been manipulated they will not get over the shock and hurt easily.
Compatibility
In terms of love, Dogs match best with the Rabbit, their worst matches are those born in the year of Dragon, Goat and Rooster.
Dogs in general do not fall in love easily, but once they do they are highly devoted and faithful. Emotionally they are a bit up and down and so need a patient match to make things work long-term.
Tweet