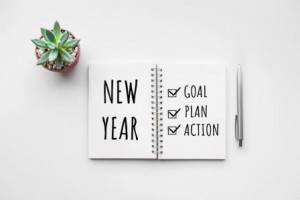 Statistics show, and possibly your own experiences bear out that we often struggle to stick to New Year Resolutions. Failing in our attempts can be psychologically damaging and have us starting the year feeling despondent and like we lack self-control and will-power.
But on the other hand, reflecting on the past year and reviewing what has gone well and what made us happy as well as where there is room for improvement is a positive thing. It is one way of making sure we do not get bogged down in the humdrum of every day life and that we make time for what truly brings us joy and that we address the things that are really making us unhappy.
So, if you want to make changes in 2018, it would seem that you have to tackle New Year Resolutions in such a way that they are actually achievable.
How to create a resolution that you can follow through with:
Really reflect over the last year, and pick an area you would like to improve. Don't just pick a resolution on a whim because of the last few weeks of behaviour. For example, making weight loss your goal just because you have indulged a little bit over Christmas. Your resolution really needs to be something you want and will make a lasting change to your life if you succeed.
Try not to pick multiple resolutions, pick the one that is most important. Then create a plan, break down the major goal into a series of small goals that can be achieved week by week. Make the targets very specific. If for example the goal was related to exercise, you would specify how many times a week you would exercise, on what days, what type of exercise and for how long. You might start with lower time targets at the beginning, increasing each week. It might be improving weights, repetitions, step count, heart rate etc.
Pick resolutions that will boost your self-esteem, those that will leave you fulfilled and give you a sense of purpose.
Don't be afraid to change tack. If again your resolution was about exercise, and you found yourself slipping, it may be that you are trying to go about it the wrong way, perhaps the gym is not for you but you would get joy from swimming or cycling. Change course, so that you can still reach your goal but just from a slightly different journey.
Resolutions generally fail as they are just too vague, a notion to lose weight, cut down alcohol or stop smoking will not just magically happen. You need to make yourself accountable. Tell your friends and family what you are trying to do, so they can support you. Seek professional help, whether that is from a Doctor, a personal trainer a diet club or someone else that fits the change you want to make. Take regular stock of how far you have come, give praise for your achievements so far and most important – KEEP GOING!
Tweet