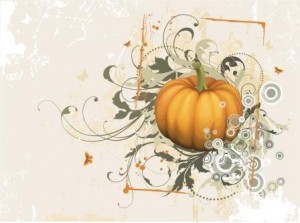 I often think of Halloween as being a 'festival' that is highly celebrated in America, but according to statistics the UK spent in excess of £300 million in 2016 on things related to celebrating Halloween.
Perhaps it is not surprising as supermarkets and shops embrace the holiday and find new ways to entice us into buying fancy dress costumes and trick or treat chocolates and so on. No sooner have 'back to school' items been put away then the isles will be filled with a sea of witches' hats, and all things black, orange and purple!
Of course if you have children you may need to embark on a few of these more commercial adventures, but perhaps you could also look at new and more spiritual ways to ring in All Hallow's Eve, as many of the day's origins are far more sacred in nature.
Baking
If you like baking, then you could celebrate Halloween by baking a Barmbrack cake (popular in Ireland) by way of an offering to the Souls of the Dead. The cakes were eaten by those who made them and their families, but were also offered to Deities on the doorstep in order to see off any evil powers they might possess. A bit like Christmas pudding, sometimes charms are added to the cake, in order to divine the future or provide omens to those partaking.
Here are some possible charms and meanings:
A ring would symbolise romance or even marriage, but a thimble would mean the opposite – spinsterhood. Bachelorhood would be symbolised by a button.
A bean would mean a life of poverty, but a pea would mean wealth.
A coin would mean a prosperous year ahead, but a small piece of cloth would financial hardship.
Set the Table
Samhain is an important event in the Pagan calendar and is used to mark the end of summer and to welcome in the winter months. Harvest has taken place, with foods gathered and preserved for leaner times. Ancestors are particularly remembered at these times, and one tradition is to set a table place for departed loved ones to be welcomed back to their family. Rather than being a morbid tradition, it is one that celebrates that Pagans believe death is not a final ending, but a transition to a different phase of existence. Any deceased members of the family visiting are likely to be welcomed, rather than treated as scary ghosts and something to fear, not least as they are likely to bring messages and blessings from beyond.
A dinner is a fantastic way to remember the lovely times you had, and the wisdom departed family members have passed down. It should be a happy event – full of laughter and joyful memories.
Fire Cleansing
Fire rituals are often a part of Halloween celebrations and can be enjoyed at home on a small scale, such as in a chiminea, or at a larger organised bonfire (please take proper safety precautions). The ritual of using fire as part of Samhain lies in the belief that fire is both protective and cleansing. It is often used to banish negative elements from your life.
Get a piece of paper, take some time to think about negative patterns that have crept into your life – then write down the issues, fold the paper and throw it into the fire. As the paper burns, you can say a powerful affirmation – such as 'I will free myself from the past, and step forward into a bright future'. As the paper completes its burning process and smoke lifts into the air – imagine your problems being carried away up in to the night sky drifting away from you.
Trick or Treat
If you are fed up of the commercial idea of knocking on doors for sweets; then why not organise with your family and friends to take Trick or Treating to a more spiritual level. The original festival actually intended to exchange gifts or positive energy as opposed to today's candy. Children may have given poem readings and even sung songs. The custom goes back to 'souling', where prayers were said for departed souls and in exchange for prayers poorer folk were given 'soul cakes' – which were highly spiced with nutmeg, cinnamon and ginger.
Halloween Resolutions
It often seems that we only make resolutions at New Year, and they are so quickly forgotten or broken.
This year, why not embrace the Halloween period to take stock of your life and determine what changes have been welcome and what things have happened that have been more negative or unsettling.
Part of moving forward in life is about accepting the past and changes that have taken place.
Think about by the time New Year rolls around – what would you like to be different in your life?
Then think about what you can do to make things happen, and equally try to think of anything that is likely to stand in your way.
Don't forget that the Psychic Sight team of readers are always here to guide you, should you need support in this area.
Tweet