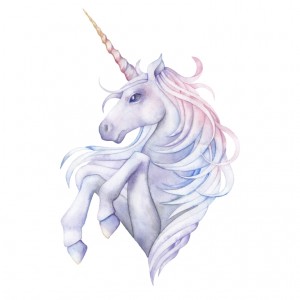 If you are active on social media sites, you will no doubt realise that there has been something of a 'unicorn fever' building. From unicorn toast, to unicorn cakes, unicorn hair to unicorn nails… The current unicorn trends feature magical rainbows of pastel colours with a heavy sprinkling of glitter…
No doubt in the next few months for children the delight in unicorns will only grow further with movies like 'Despicable Me 3', featuring Agnes and her quest to find a real unicorn. The movie suggests that only those 'pure of heart' will see one… And for any adults that see the movie they will surely like the line "Life is like that, honey. You expect a unicorn but you get a one-horned goat."
Mythical Animal
Although the unicorn is seeing resurgence in popularity the reality is that it has been a long revered mythical creature.
Often in pagan religions the unicorn is associated with or thought to belong to the moon goddess. It is depicted as looking like a white horse, but with a single horn protruding from the centre of its forehead. Its magical healing abilities were believed to derive from the horn.
The unicorn is long associated with purity, and it is believed that only those with an honest heart could tame it.
Legends
In Folklore and legends the unicorn often plays the role of defender, either preventing evil or guiding those in danger. Sometimes the unicorn is placed opposite a lion; where the two magical beasts would go head to head. The unicorn demonstrates its magical power of never tiring something that provides immense frustration to the lion. But equally even the unicorn has weaknesses, and as magical as the horn is, it can also be the undoing of the animal – as it risks getting caught in branches of the trees – in this scenario the lion would win and the chase would be over – until next time…
Early Mentions
One of the earliest mentions of unicorns is believed to have come from the ancient Greek writer and historian Herodotus, when he described a 'horned ass' of Africa. In the same time period, historian and physician Ctesias, is said to have brought back tales from Persia of a unicorn as 'fleet of foot with a body like an ass'.
Other Cultures
In China a unicorn is known as 'Ch' i lin', they consider the animal to have great power and wisdom and a sighting would signal the birth of a great leader as well as good fortune.
In Japan a unicorn would be called 'Kirin' or Sin-you. They are seen as fierce and all powerful at protecting right from wrong, whilst being solitary and gentle creatures.
Tweet