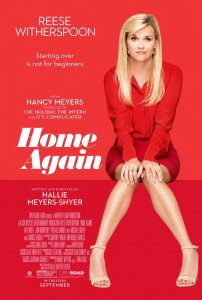 In Home Again Reese Witherspoon plays the part of a recently separated mother, whose friends encourage her to start dating. The trailer shows that at 5 months she thinks it is too early, but encouraged by her birthday (where she always goes a little bit wild), she falls for a much younger man. So young that he is carded at the bar!
Alice Kinney (Reese) is 40 years old, and is separated but not yet legally divorced, starting over in Los Angeles she is pushed by her Mother who is played by Candice Bergen to let out her guest house to three aspiring and young filmmakers, one of whom just happens to be the guy from her birthday…
Of course no Rom-Com would be complete without a twist, and in this film that is in the form of her estranged husband (played by Michael Sheen) re-entering the picture.
The film is released on the 8th September and you can see the trailer here: http://homeagain-movie.com/
Critical Acclaim
Many stars that we would normally consider to be film actors are turning to TV, as they often feel that the writing is better and there are more opportunities for women to play lead roles, especially once they reach a certain age.
Reese Witherspoon is one such example, she recently has acted in HBO's programme 'Big Little Lies' alongside Nicole Kidman, in what is a tale of three mothers whose lives initially look perfect, but soon unravel to the point of murder!
Nicole and Reese will now go head to head over an Emmy for the Best Actress in a Limited Series or a Television Movie.
The series was only supposed to be one season long, but the show garnered a lot of word of mouth momentum and it's possible that alongside the Emmy's plus the stars willingness to return that a second season may ensue.
Future Projects
Reese has a number of projects that are coming up; following Home Again she takes the lead in Tinker Bell and Wish List. Then in 2018 she will appear in A Wrinkle in Time. But the project that has been garnering much press attention is a yet to be titled development with Jennifer Aniston, with the plot supposedly focusing on a New York morning show. Those of you of a certain age may remember that Reese and Jennifer acted together in Friends with Reese playing Rachel's very spoilt sister.
Things you might not know…
Reese owns and founded a company called Draper James, which sells clothing, accessories and home accents.
Tweet