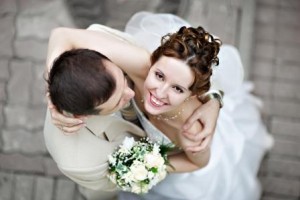 No doubt some of you will have had wedding invites drop through the post for this summer's nuptial season…
But just what superstitions are there surrounding getting engaged and getting married?
In time gone by, where a couple met would have had an impact on the success of their union. For example, hillsides were considered to be very lucky, if that hillside was near moving water then that would make the situation even better.
Meeting in the heart of woods would mean a relationship would be constant forever, but conversely if Poplar trees were nearby then bad luck would be bestowed on the lovers.
If a couple kissed under the light of a New Moon then that would mean they would quickly marry and have enduring love.
When a couple walks together it means good things for their relationship if they encounter a white horse or a black cat! It is also thought of as good luck to be in the presence of a cat that sneezes the day before a wedding.
Of course, that means there are also places that are unlucky for love – couples should avoid meeting near a pond, on a bridge, in a valley, or on a canal bank and the very worst place – a cross roads! It is thought that these locations would turn respect and love into hatred and bitterness…
Once a couple was engaged there were a number of activities they would not partake in: they would not walk together when leaving a wedding, as it could mean they would soon part. They would not be photographed together, as it is thought that doing so would cause them to split or have an unhappy union.
Something old, something new, something borrowed, something blue… or so the saying goes for a wedding bride. But to Victorians it is actually a silver sixpence that acted as a lucky charm to a bride on her wedding day, so say it would ensure longevity of the union and more importantly a happy marriage.
Further to the above, if a couple share the halves of a sixpence (which is considered lucky in itself), it represents the couple's faith and should ensure they never part.
Pearls have a bit of a mixed message, nowadays they are often used as part of the bride's jewellery, and they often represent innocence and purity. But legend also says 'pearls bring tears', but if you dream of pearls you will have a very successful marriage.
Finally, whilst many of us do it, it is actually considered bad luck for an engaged woman to allow another woman to try on her engagement ring. Equally once purchased bride & grooms wedding rings should not be tried on again before the ceremony; it could bring about an end to the engagement or worse if the ceremony goes ahead an unhappy marriage forever.
Ref: The Encyclopaedia of Superstitions, Deborah Murrell
Tweet