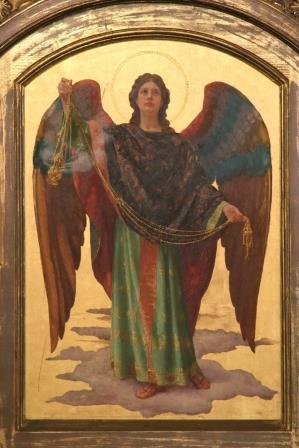 Gabriel
Archangel Gabriel is one of the two highest ranking angels. He is best known for coming to Mary and informing her that she would be giving birth to Jesus. It is also believed that he helped Joan of Arc with her campaign. In Judaism it is said that Gabriel parted the Red Sea so that the Hebrews could escape and in Islam it is told that Gabriel dictated the Koran to Mohammed. The meaning of Gabriel is 'God is my strength'.
Gabriel is the Archangel of guidance and can help in all aspects relating to this. For instance, he can help you to find your true calling or life purpose, or give help on such issues as a new career, relationship or family. He can also help with purification; such as if you have negative thoughts, are in a negative environment or have been abused.
As with all angels, if you want his help you just need to call him by name and ask him for what you want. Crystals connected with Archangel Gabriel are Tanzanite, Iolite, Lapis Lazuli and Blue Calcite, he is also connected with the lily and with the colours white and indigo. His day is celebrated on 29th September.
Michael
Michael is probably the best known of all the Archangels. He is often shown carrying a sword. In the bible he rescued Daniel from the lions and he is also referred to in the Islamic and Jewish religions, the Dead Sea Scrolls, and many other beliefs.
Michael is the Archangel of protection, courage and strength, and, truth and integrity and can be called upon to help you in these circumstances. As with all angels, he cannot help until asked to, either by the person involved or a person who cares about them. All that is necessary is to ask for his help and then he can step in and give aid.
Many people have reported miracles when they ask Archangel Michael for help. He can protect us physically, emotionally and psychically in any situation where we don't feel safe. Similarly in those situations where you need more courage to face the circumstances you find yourself in, such as ill health or mental strain, or where truth and honesty is involved, such as when you find it hard to tell the truth or accept the truth, he can easily be called upon to help.
Tweet