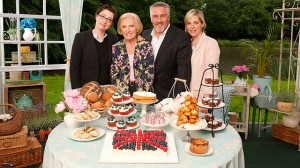 Did you watch The Great British Bake Off series 3? I did and I thoroughly enjoyed every delicious moment of it! Being rather partial to a cake or two I have been watching since the beginning and with the last episode of series 3 garnering a viewing audience of 7.2 million to watch John Waite take home the title of best amateur baker – apparently I am not alone…
Whilst each year we hear more about the winners endeavours (see John Whaite Bakes book opposite) it seems to be the unique blend of presenters – Sue Perkins and Mel Giedroyc and judges Mary Berry and Paul Hollywood that really make the programme.
You are probably aware that Mel and Sue were originally a double-act; they have written material for French and Saunders and have hosted their own shows – Light Lunch and Late Lunch. Both of them have appeared on the award winning radio show 'Count Arthur Strong's Radio Show'. In separate work Mel has appeared in cult sketch show Sorry I've Got No Head, West End Musical – Eurobeat and popular teen drama Sadie J. Mel also presents the 4 o'clock show daily on Radio 4 Extra and is now branching out in to writing for theatre.
Sue's recent solo projects have included documentaries in art, history and popular fiction. She is no stranger to competitions having won BBC show Maestro in 2008 which culminated in her conducting The Last Night of the Proms – her passion for conducting has continued. Also even before The culinary show The Great British Bake Off – Sue was demonstrating an interest in food with shows like The Supersizers alongside food critic Giles Coren experiencing historical periods of food. I am sure she has found trying Victoria sponge more delightful than Bovine Bread and Butter Pudding! Sue also regularly appears in Radio 4 shows Just a Minute and The News Quiz.
Mary Berry knew from an early age that she wanted to pursue a career in food and she trained at the Bath College of Home Economics and later went to Paris to attend a Cordon Bleu Course and she is also a qualified teacher.
In the 1960's Mary became Cookery Editor of Housewife and later Ideal Home Magazine. Her first book – The Hamlyn All Colour Cookbook was published in 1966. In case you are wondering Mary is currently 78 years old! In total Mary has published over 70 books, selling more than 5 million copies around the world. Work for the BBC before The Bake Off included Mary Berry At Home and Mary Berry's Ultimate Cakes series filmed at her Buckinghamshire home.
Quite rightly Mary has recently been recognized for her contribution to the culinary arts by the Queen, being appointed Commander of the Order of the British Empire (CBE) in the 2012 Birthday Honours. Lemon Drizzle Cake and Tarte Au Citron are the cakes she is most told people like baking from her repertoire, but Mary's favourite is a humble ginger treacle tray bake.
Paul Hollywood has worked as Head Baker in many exclusive hotels like The Dorchester, Cliveden and the Chester Grosvenor, as well as spending six years abroad at the Annabelle and Anassa Resorts in Cyprus. He has co-hosted programmes with Chef James Martin for Carlton food network and has made many TV appearances on shows like Richard and Judy, This Morning and Ready Steady Cook. His passion lies with educating viewers in baking traditional breads. Paul also regularly contributes to food magazines and newspapers such as BBC Good Food, Delicious magazine, Olive, Daily Mail and The Observer as well as a variety of radio shows.
Paul was originally a sculptor but was persuaded to change careers by his father; he is now able to combine his love of sculpting and baking. His breads are even sold in Harrods in fact in 2008 he created the most expensive bread in Britain – an almond and Roquefort sourdough bread that sold for £15 a loaf.
More recently he has been kicking up a storm both professionally and personally stateside, filming the US version of the show titled The American Baking Competition.
Both Mary and Paul run Master classes after the Bake Off in the same tent to recreate the challenges on that series step by step so that we can learn how to get perfect results every time. They have also judged the Junior Bake Off series on CBBC and the Sports Relief celebrity version. In May 2012 The Great British Bake Off won the BAFTA features award, which they all collected together.
As I write this article the TV schedule has not been confirmed for season 4, but if it follows previous years the episodes are likely to be broadcast during August. You can follow the series at the following websites:
http://www.thegreatbritishbakeoff.co.uk/
http://www.bbc.co.uk/programmes/b013pqnm
In the meantime why not get practising with the help of these latest books:
Great British Bake Off: Everyday: Over 100 Foolproof Bakes
This book is for the baker who wants to whip up a cake for an office party, traybake for a kid's birthday or pudding to follow a simple supper. Using straightforward, easy-to-follow techniques, there are foolproof recipes for cakes, traybakes, bread, biscuits, tarts, pies, puddings and desserts. Each chapter also showcases the best recipes from the series – Mary and Paul's Signature Bakes, Technical Challenges and Showstoppers, plus the best bakers' recipes from series 4. The finalists' recipes will be available after the final has transmitted in October. For more information go to:
John Whaite Bakes: Recipes for Every Day and Every Mood
John Whaite Bakes. He always has. Whether he is happy or sad, in love or heartbroken, on his own or with friends, he believes that whipping up his favourite dishes provides nourishment for both the body and the soul. Now, fresh from winning the 2012 Great British Bake Off, he wants to share his mouth-watering creations with us so we can find the perfect recipe to fit our mood too. So, whether you need a pick-me-up for dinner or a lazy Sunday breakfast treat, John Whaite Bakes is full of indulgent, delicious recipes to suit your every day and every mood.
Paul Hollywood's Bread
Paul will teach you exactly how to make a variety of breads, but for each one there is a spin-off recipe that shows you how to make a fantastic meal of it. The book has six chapters, each with five bread recipes – plus the spin-off recipes for main courses. Not only are Paul's recipes delicious but they are also foolproof, with comprehensive step-by-step photographs.
Mary Berry's Cookery Course
This is a cookery course from the UK's much-loved cook. Let Mary take you from new cook to good cook or from good cook to great cook with Mary Berry's Cookery Course. With delicious recipes from soups, starters and mains to bread, puddings and cakes, you can master the foundations of cooking and build your culinary repertoire.
Mary Berry at Home
This is Mary Berry's collection of her favourite dishes that she cooks everyday for her family and friends. Mary and her close friend and assistant, Lucy Young, provide over 150 simply prepared, delicious, reliable recipes for lunch, dinner and parties. Whether you need food for two or twenty, Mary and Lucy have included plenty of starters, mains, sides and puds, together with invaluable advice on cooking for all occasions. And no book from the Queen of Cakes would be complete without some mouth-watering, foolproof bakes. "Mary Berry's Baking Bible" is the only baking book you'll ever need, and Mary Berry & Lucy Young "At Home" takes care of every other mealtime.
Image – courtesy of the BBC.
Tweet