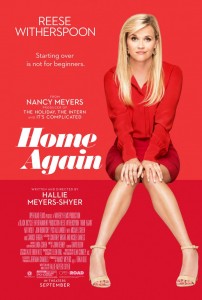 In Home Again Reese Witherspoon plays the part of a recently separated mother, whose friends encourage her to start dating. The trailer shows that at 5 months she thinks it is too early, but encouraged by her birthday (where she always goes a little bit wild), she falls for a much younger man. So young that he is carded at the bar!
Alice Kinney (Reese) is 40 years old, and is separated but not yet legally divorced, starting over in Los Angeles she is pushed by her Mother who is played by Candice Bergen to let out her guest house to three aspiring and young filmmakers, one of whom just happens to be the guy from her birthday…
Of course no Rom-Com would be complete without a twist, and in this film that is in the form of her estranged husband (played by Michael Sheen) re-entering the picture.
The film is released on the 8th September and you can see the trailer here: http://homeagain-movie.com/ (more…)