PIN: 3673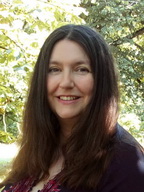 From a young age, Anna had an affinity with nature spirits and angels with whom she works closely. They bring light, kindness, caring and clarity to the readings. Anna uses Angel cards and Fairy Tarot cards which she feels bring extra protection to her readings for both herself and her clients.
During her readings, Anna uses a combination of clairvoyance, clairsentience, and clairaudience which means clear seeing, sensing, and hearing. Her strong sense of intuition can be attributed to her wonderful mother who gave her confidence in her psychic gifts and her amazing unwavering support which is why she has always felt very comfortable with her abilities.
As a child of Celtic descent, Anna loves nature and enjoys exploring the scenic countryside, the rolling hills, freshwater streams, brilliant blistering winds and small lives of every kind. From a young age, Anna was always drawn to supporting and healing which led her to become a Reiki healer and teacher.
Anna also likes to work with the high vibrations of beautiful healing crystals. She works with clients, partly using positive manifestation, which she feels support breaking down limiting beliefs. Together you will explore the past, present and future and the unlimited possibilities available to you.