PIN: 3422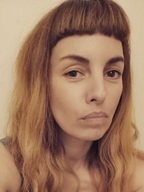 Stella strongly believes being a reader is a form of therapy, and being able to voice your problems and talk to someone is a really healthy way to heal, learn and grow. Stella believes in being sensitive and really listening to the client, this she feels is the key to guiding and support them.
As a psychic, medium and Tarot reader, Stella brings many gifts to the table, but also a big part of her work is healing the mother wound. This is a very deep and not overnight process, but transformational and wonderful work. Stella believes we can be stuck as adults in our mothers' wounds. We then take these on as our own identity. This can leave us blocked, and creates limiting beliefs of ourselves and our journeys.
Stella has a very holistic approach to her own spiritual health & development and that of her clients. Daily self-care, meditation and clearing of chakras are all practises she follows. Ensuring that she is fully present and clear to engage with Spirits and can seek the answers to client's problems.
As a reader Stella has a light touch, and offers a very calm and healing experience. She believes the goal is to change neural pathways and experience ourselves in our full divinity. Stella would love to engage you in a more enlightened and lighter journey, so don't hesitate to get in touch.