PIN: 3009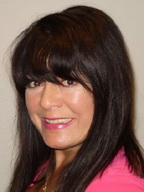 Wanda is a high profile psychic with considerable Television and Media experience. She was a regular guest on Living TV's Psychic Live and had her own regular live slot on the CBBC channel enthralling youngsters with her live dream interpretations and from this her first book was inspired. Her other book How to Read and Use Body Language is now a best seller. For over 8 years she was the in house Astrologer for a top TV magazine.
Her mother came from the famous Pellegrino psychics and together with her East European father Wanda developed her psychic skills. Wanda is a natural clairvoyant with an avid interest in the esoteric but she has the skill to be able to walk with a foot in both worlds and deal with your issues in a very down to earth manner.
Her forte is working with you and your relationships; she says "Love can make us do the craziest things! When we reach the heady heights of love we experience some of the happiest moments of our lives, but when love turns sour we can be sent down into a pit of despair triggering indescribable fears and feelings of rejection, abandonment and uncertainty." Let her look deeply into why your partner is behaving the way they are and how best you can create a wholesome loving relationship.
Wanda wishes she had a magic wand to make things right for people! However she prides herself in always trying to be honest and sometimes spiritual lessons and life experiences can be painful but she sincerely feels happen for the overall good.
Wanda's feedback
I rang Wanda about my love life as I had had a string of disasters and wondered what the future held. She told me I would meet my next partner at work. Now I have been working here for over 20 years without ever meeting anyone and I was quite rude when she told me this. She also said he was into sailing and lived by the sea. Two weeks after my reading in he walked as our new Area Manager and we have been dating ever since and spending our weekends on the coast!
Trisha