PIN: 8070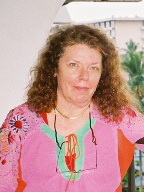 As a psychic, Tarot card reader and past life hypnotherapist Leah brings many years of experience and a wide breadth of knowledge to her readings. She works alongside a very strong American Indian Guide, someone who has been with her forever and whom she loves and believes implicitly, together they will assist you in whatever is troubling you.
Here beloved husband Anthony, who was a long-time reader on Psychic Sight, has recently passed, and so now, acts as another most valuable support, guiding from the other side to give her new insight to pass onto you.
Leah's reading style is very focused on you, when you talk to her – you will see that she will really listen to you, that she will really hear what you are asking and saying to her. You will no doubt appreciate her straightforward talk and perspectives during her readings. Her sense of humour will assist you getting through the tough times you are facing.
In the few minutes you will have together be assured she will give you her very best. If you need a friend, assurance or strength ask Leah about your very own spiritual guide or guardian angel which you most assuredly have. She will be so happy to support you in seeing and speaking to your guide.