PIN: 8084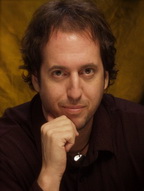 Tommy brings a Tarot gift handed down from his mother's side of the family. Originally, he wanted to learn the Tarot as a form of self-improvement and to get in touch with his spirituality, and as such he spent months and months studying books by classic Tarot masters, people like Waite, Crowley, Case and Pollack.
When he finally cracked open a new deck the cards seemed to spring to life for him and quickly a bond was formed with the Rider-Waite deck and its artwork. In these early days Tommy formed a morning practice where every single morning he would do a Celtic Cross spread asking the cards how his day would go, a practice he would keep doing for over five years! Now it's one of several exercises Tommy recommends to his students to assist them in connecting deeply whilst learning the cards.
The universe had bigger plans than just self-improvement though and soon Tommy's friends started to request readings and shortly after, an opportunity opened up with a day spa that had a section for readers. As he continued to study and read, Tommy made it a point to learn all the planetary and astrological correspondences assigned to the 78 cards by the Golden Dawn to deepen his interpretations. As he deepened his exposure to the genre, things like private parties, special events and phone clients started to emerge. One of Tommy's favourite things to mention about his craft is that he was doing email readings long before anyone even started coining the term and offering it as a regular product.
In 2010 Tommy started teaching the Tarot, first privately and then in groups through local metaphysical stores. As he continued teaching and expanding his lesson plans, he wrote a series of 40 blog articles which were published between 2011-2012 and eventually released an e-book as a collection named Tarot Essentials Vol I. In 2013 Tommy wrote and taught The Professional Tarot Card Readers Certification Course, a dynamic series of classes designed for students with serious goals in the metaphysical services. As a result of this unique program, many previous graduates have gone on to spiritual opportunities.
A double-Taurean; Tommy is very passionate about what he does and enjoys supporting people through their problems. He is straight-forward and down to earth, in his readings he tells you what the cards say, even though this may not always be what you want to hear. Astrology and numerology are automatically integrated into the Tarot reading and because of Tommy's vast knowledge of the cards, the artwork and symbolism come alive for his clients over the phone.
Tommy lives in Lake Arrowhead, California and when he's not reading or teaching (which is basically never) he enjoys watching films and listening to music. He himself is a semi-retired music artist with thirteen albums in his catalogue. Why not put your faith in a proven reader with 16 years of experience?