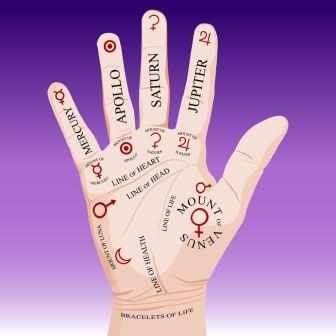 Reading palms is likely to have started in the Far East as long ago as 4000 years, it is mentioned in ancient Hindu scriptures and The Old Testament. It is thought hand reading, also known as Palmistry and palm reading spread in popularity throughout Greece and the Roman Empire and has been practised in one form another ever since.
There is a difference between what your dominant and passive hand can tell you. Generally, your dominant hand (the one you write with), reveals the aspects of your personality and how others perceive you. It can also assess your talent, your health, your life in general and likely future successes you will have. Whereas your passive hand is much more about your potential, your imagination and your instincts.
Here is a basic guide to Hand Reading
The first step is to look at the shape of the hand. The hand has four shape classifications, that correlate to the four elements:
Air Hand: This shape is characterised by long fingers; the person craves excitement and looks for new things to do and explore – they are likely artistic.
Earth Hand: This hand is denoted by a square shaped palm and short fingers. These are down-to-earth folk, they have lots of energy and are both practical and reliable.
Fire Hand: The palm will be long in shape, but the fingers will be short. For this hand type it is all about living life to the fullest, they often have a lot of drive and are sporty.
Water Hand: Long slim fingers, accompany a long palm on this hand. These folks are usually quite 'dreamy' in personality, they are caring and sensitive people.
The second step is to look at the mounts (sometimes called fleshy pads), which sit at the base of each finger and on the palm. The size of the pad, really denotes how strong or weak we are in each area.
At the base of the palm (left to right)
Mount of Luna: Imagination and Intuition
Mount of Neptune: Perception
Mount of Venus: Health & Happiness
In the mid-section of the palm (left to right)
Mars Negative: Honesty and Staying Power
Plain of Mars: Passion & Emotions
Mars Positive: Energy levels
At the base of the fingers (left to right)
Mount of Mercury: Intelligence & Communication
Mount of Apollo: Creative and Artistic abilities
Mount of Saturn: Sense of Responsibility & Common Sense
Mount of Jupiter: Ambition & Self-Worth
The third step is to look at the lines. There are five main lines that we assess on the palms, each of which tell us about character and the events in a life. The lines can even tell us what stage a person is at in terms of their career, love life, health and more…
There are certain marks on the lines, for example crosses or stars that point to events or turning points in a person's life. These might denote a need to take extra care, or a break may demonstrate a complete stop of energy.
Come back next week, so we can explore the Life Line, The Head Line, The Fate Line, The Heart Line, The Apollo Line, as well as fourth step covering thumb and fingers…
Tweet