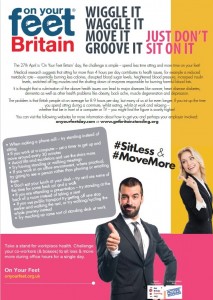 The 27th April is 'On Your Feet Britain' day, the challenge is simple – spend less time sitting and more time on your feet!
Medical research suggests that sitting for more than 4 hours per day contributes to health issues, for example a reduced metabolic rate – essentially burning less calories, disrupted blood sugar levels, heightened blood pressure, increased insulin levels, switched off leg muscles and the shutting down of enzymes responsible for burning harmful blood fats.
It is thought that a culmination of the above health issues can lead to major diseases like cancer, heart disease diabetes, dementia as well as other health problems like obesity, back ache, muscle degeneration and depression.
The problem is that British people sit on average for 8.9 hours per day, but many of us sit for even longer. If you tot up the time you spend sitting during a commute, whilst eating, whilst at work and relaxing – whether that be in front of a computer or TV – you might find the figure is scarily higher!
You can visit the following websites for more information about how to get you and perhaps your employer involved:
http://www.getbritainstanding.org
Things you can try to #SitLess and #MoveMore
When making a phone call – try standing instead of sitting
If you work at a computer – set a timer to get up and move around every 30 minutes
Avoid lifts and escalators and use the stairs more
Try having standing or walking meetings
If you work in an office environment, where practical, try going to see a person rather than phoning or emailing them
Don't eat your lunch at your desk – try and use some of the time for some fresh air and a walk
If you are attending a presentation – try standing at the back of a room instead of taking a seat
If you use public transport try getting off one stop earlier and walking the rest, or try walking/cycling the whole journey instead
Try mocking up some sort of standing desk at work
Tweet