PIN: 2012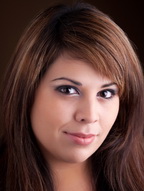 Katy has been a professional clairvoyant medium for twelve years. She realised she had a gift of psychic ability since early childhood. Katy recognised her precognitive abilities from the age of eight, seeing and feeling events in people's lives before they happened. She was also very aware of premonitions from the age of eight, predicting situations and events, days, weeks, months before they actually happened, exactly as she saw them.
Katy's credits have included TV work, reading for various minor celebrities, magazine work and horoscopes. She has taught clients and students how to read and interpret the cards. She has also taught students how to develop their own psychic ability, including clairvoyance, clairsentience, clairaudience, claircognisence and clairoma; Katy herself has all of these gifts. Katy believes that everyone has a psychic ability, but that sometimes society and its distractions can push it to the background. She has fought hard to prevent this from happening to her, continually developing her own gift and constantly learning how to improve her own psychic ability every day to reach a level where she can guide anybody who asks for it.
Katy is an expert in reading all types of cards, especially angel cards, but prefers to work directly with her spirit guides. She has an incredibly gifted link with spirit, working in a unique way by giving direct information from spirit to the client. Katy gives direct, honest information to her clients straight from spirit. She is very down to earth, with a no nonsense, practical attitude, giving information in an undiluted way as she gets it directly from her spirit guides. She is known for her clarity, thorough approach to her readings and meticulous detail. She is able to tune into how people are feeling using her remote viewing skills with incredible preciseness and success. Katy has a passion for advising people and doesn't believe people should suffer in silence, she believes to be forewarned is to be forearmed. She is best known for her validations, being able to tune in to names, places, timings and especially how people really feel about things. She is also known for her exacting predictions of people's futures.
Katy has a good sense of humour, is very approachable and compassionate, but also gives the information in a sensitive but direct, relevant way.
Katy's feedback
I've had a few reading with Katy for two years now and she is the best psychic reader I have had. Katy is spot on every time I ring her about work, love and family life. Katy tells you the facts about work etc. – not just tell you things you want to hear. I remember when I first spoke to Katy telling my troubles at 4 am. She told me she used to remember those days. If you want a reading ask for Katy you won't be disappointed. Keep up the good work Katy and with your fitness and diet too just as I told you how to keep fit. Love & Light, Rachel - Newport S.Wales
Rachel
Well, Katy preciseness strikes again…I got the job she said I was going to get prior to the interview. Thanks Katy, hope all is well!
Hayley
Katy is a fantastic brilliant psychic. I have had readings with Katy for years and I have had validation after validation. Katy has also been able to tell me if I had a job I was going to be interviewed for even before I went and she yet again has always been correct. Katy has also guided me in the area of men, well man…She has been brilliant!!! She has supported me ride a very long storm (because I wanted and her ability saw the final outcome excellent) she has listened to me and offered advice!! I can't thank her enough!!! No doubt I will be in touch again. Katy will tell you the outcome even if you don't want to have that particular outcome but her experience and professionalism will do it in such a nice you will feel uplifted!!! Give her a call you won't be disappointed!!! Thank you Katy xxx
Hayley
Katy tuned in to how my ex was feeling about me and predicted he would be back. She gave me amazing detail of why we needed the time apart during our break up, explaining how he needed to grow and realise his true path, and then come back to me as the man I needed him to be for our relationship to have a future. He came back exactly when she said he would and our relationship is now very strong as Katy predicted. Thanks Katy! Wow, couldn't have got through this without you.
Hayley