PIN: 1551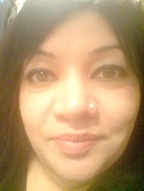 Diamond is a naturally gifted psychic with the ability to see, hear and read auras. She started making predictions for friends and family at the age of 13, and has developed into a popular and gifted psychic. She supports clients through tough times, guides them on their life journey, and aids them to reach their full potential. As a natural clairvoyant medium of Indian origin, Diamond understands and works with many of the Eastern traditions such as Vedic principles, astrology, palmistry, gem stones and face reading.

Diamond says that what happens as she gives a reading is "like watching a movie." She loves gemstones, and works with them to match the right stone to a particular individual. She also has an interest in Ayurdevic philosophy and medicine, and is a Reiki healer.

Diamond likes to reassure during her readings and to restore people's faith in their life. She says "when they tell me later that it all happened as I said it would, that makes me very happy. It is hard work but very special work and we are privileged to be able to do it."
Diamond is a typical Gemini, she definitely has multiple sides to her personality - sometimes happy, sometimes sad, sometimes quiet, sometimes the life and soul, finds it hard to make decisions…But Gemini's are good communicators and that assists enormously with her psychic work and as `messengers` of the Zodiac.
Diamond's feedback
I would like to leave feedback for Diamond. I have had a few readings with her and she has been spot on. She predicted the exact dates that things would happen, which they did. She is a super reader. I can't wait for my next reading! xx
Victoria
I would just like to say thank you for your truly amazing insight as to why a part of my life is so static. It's only been a few days but I can feel things beginning to change for the better and I am so grateful. Thank you once again.
Melz
It hasn't even been a year yet and already my life has completely turned around. I had never received any kind of psychic reading in the past, and chose this as a last means, but ever since I've never looked back. Now this is the first thing I would turn to and would recommend it to anyone because it really does work, and I would never go to anyone else. So whatever problems you have put an end to it just like me and trust me you get your money's worth!
Zoey