PIN: 2112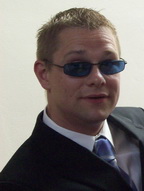 The things in my life that I have strong passion about are supporting people and animals. My family has a strong history with the gift from one of my ancestors Kezia Gardener, she was a local clairvoyant and her daughter did table tipping and was a medium.
From both sides of the family there was always a strong faith in the after life and spiritual practises. At the age of three my granny from my mum's side came to me in a green and white light and still does to this day. This lady died of a brain tumour before I was born.
My development took off after personal issues in my late teens; at this point I had sunk to the bottom of the pit so to speak. Meditations which got me through life started to guide me on a new path - think of me as an old penny that came up nice and shiny. I had no confidence at school as bullies had drummed that out of me, so I had to find the light myself through learning the Kabbalah, reiki healing, mediumship, trance-mediumship, ghost hunting, Wicca/pagan and clairvoyance.
My life after working doing readings for over eight years is one of constant training and teaching. I help run a spiritual centre in Nuneaton (my home town) called The Beacon. I put a lot of free time in to this place as this is where I put some thing back.
I am not a medium who just works from home I get out and about. My work takes me on stage a bit also; I will be doing platform work at The Beacon, and I also do psychic suppers in and around my local area which are great for speaking to real people face to face on a daily basis.
So what ever your problems are, I have seen, felt, healed and touched the lives of many before. My Mother and her brother's are also mediums and have all lived a very extraordinary spiritual life of clarity, love and respect of which I am proud to pass on. I love my work; bringing people together with their loved ones, especially when I get through people that are not expected!
Adam's feedback
Adam Walker has been a huge support to myself and family though the last three years. His readings are constantly reliable and have brought great comfort to many members of my family during a very upsetting period.
J Harris